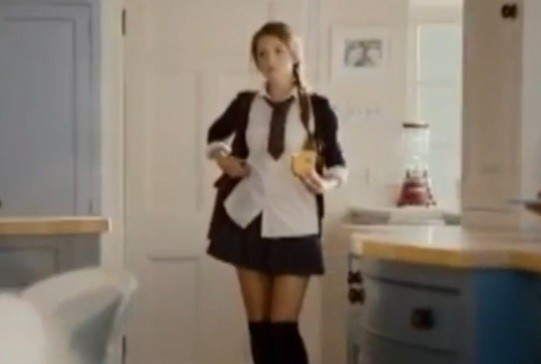 Bread giant Kingsmill has come under fire over its latest TV advert which shows a teenager girl posing provocatively in skimpy school uniform.
The 30-second commercial prompted a barrage of complaints from furious parents who accused the company of "sexualising" children.
In the advert for Kingsmill's fruit and fibre bread, a schoolgirl is seen in the kitchen with her younger brother having breakfast. After her brother informs her of her father's warning: "If you think you're going to school in that skirt, you can think again" she responds by defiantly hitching up her mid-thigh length skirt to strike a provocative pose.
One angry viewer said: "Perhaps it's because paedophilia is very much in the public consciousness at the moment but shouldn't this be illegal? Nearly seeing up the skirt of a minor?"
Another said: "'I just don't see how it's appropriate or what it has to do with a Kingsmill loaf. It's blatantly using sex to sell an everyday product."
The Advertising Standards Authority (ASA) said that it had received 19 complaints since the advert launched a week ago. It now plans to open an investigation to determine if Kingsmill's campaign was "offensive and irresponsible".
The company, however, has defended the ad, claiming that it "captures the playful interactions that are typical of day-to-day family life and demonstrates our understanding of modern families and their needs."
Will Ghali, director of brands at Kingsmill owner, Allied Bakeries also said: "I don't think it's suggestive. It's light-hearted and gets its message across in an entertaining and engaging way."
The advert is the latest in a £4 million campaign to promote Kingsmill bread. It stars 18-year-old Tara Berwin and nine-year-old Lewis Hardaker.
Watch the Kingsmill Fruits and Fibre advert here: