Police in the US fear a deadly trend called the "knockout game" is once again sweeping the nation. The 'prank' sees gangs of kids approach innocent strangers on the street and attempt to knock them out with a single punch.
It first gained notoriety in the 1990s and appeared to have gone out of fashion, but now a spate incidents in US cities has sparked fears of a fresh epidemic.
A teenager knocked a 43-year-old man out cold as he left a burger restaurant in Brooklyn on 26 October at around 9.15pm. Other young men looked on and cheered as the attack took place.
"He started walking to the kids. They were mocking him, distracting him. One of the boys hung back. He took his jacket off, wound up and hit him," an unnamed witness told CBS New York.
Disturbingly, other members of the group posed for selfies with the victim as he lay unconscious on the pavement. So far, police have made no arrests.
The incident comes after shocking CCTV footage of a brutal knockout game in Pittsburgh surfaced. The clip shows a lone woman walking down the street in September, minding her own business, when a man approaches her. He kicks her once and then floors her with an explosive right hook.
She crashes to the pavement as the man struts away. From off screen, four other young men approach her stone cold body. They each take out mobile phones and film her for their own amusement.
Police say no one called 911 in the aftermath of the attack despite the fact the woman was on knocked out for 45 minutes. The woman's distraught mother spoke to CBS Pittsburgh, saying: "They don't treat animals like that. They wouldn't treat a dog that way... It's disgusting. My daughter needs help."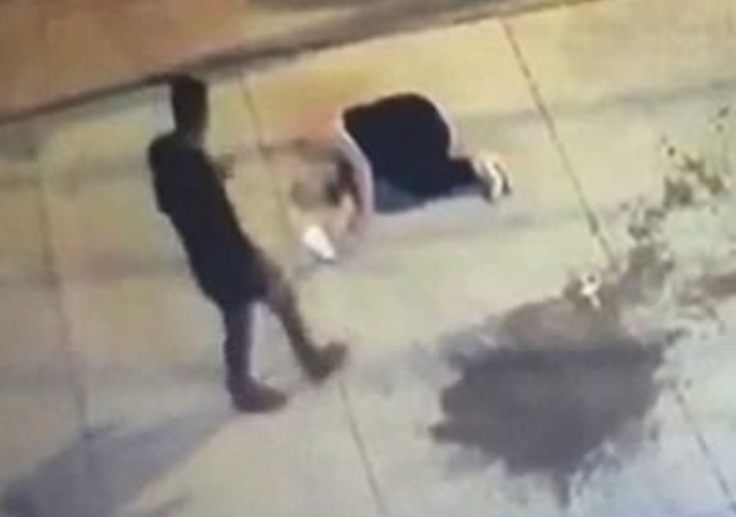 Back in New York, police are hunting down suspects after a similar attack left a 53-year-old woman with a bleeding face in September. Authorities hope the trio of recent incidents is not indicative of a wider craze.
A handful of people have been killed by the deadly street game in the last two decades. In the past, many New York attacks have also been linked to anti-Semitism. The problem became so serious that Rabbi Gary Moskowitz, a former police officer, began training Brooklyn's Jewish community to defend themselves against attackers.