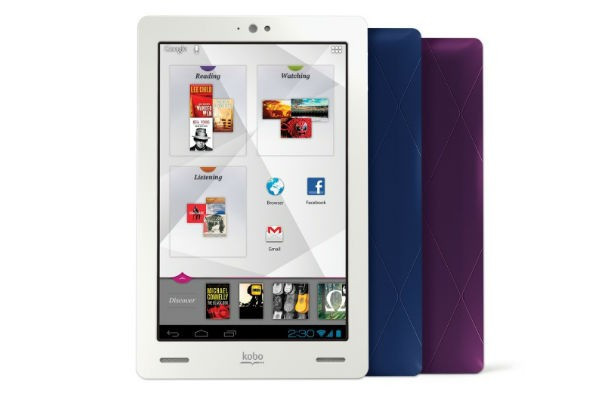 Key Features:
7in display, 800 x 1280 resolution; 215ppi

1.5GHz dual-core processor; 1GB RAM

189 x 120 x 11.5mm; 364g

Android 4.0

Customisable back covers

Cost as Reviewed: £159.99 (16GB model)
Introduction
If Kobo had managed to get itself together and launch the Arc tablet in 2011 - even if it had cost £50 more - it would have had a sure-fire winner on its hands.
Instead the company launched the Vox tablet, which was variously called limited and tortuously sluggish with little reason to buy one. It lacked Google certification and therefore access to the Google app store, and was little more than a souped-up ereader.
Kobo is back however, with the Arc. It features a 7in HD screen, fast processor and, crucially, access to Google's Play Store including apps, videos, music and games. It even has a low price of just £159
The problem for Kobo is, it is now 2012, and the Arc faces some stiff competition in the shape of the Google Nexus 7, Amazon Kindle Fire HD and Barnes & Noble Nook HD - all of which offer similar features and costs.
Does the Arc do anything to make it stand out from the crowd? Let's find out:
Kobo Arc: Design
None of the budget tablets mentioned above are particularly well-designed, especially when put up against the iPad mini, though this does cost £110 more than the other devices.
And the Arc is no different. It is of a similar shape, size and weight to it competitors, though it is slightly narrower making it slightly easier to hold in one hand. In terms of weight its slightly heavier than the Nexus 7 and Nook HD, but lighter than the Kindle Fire HD.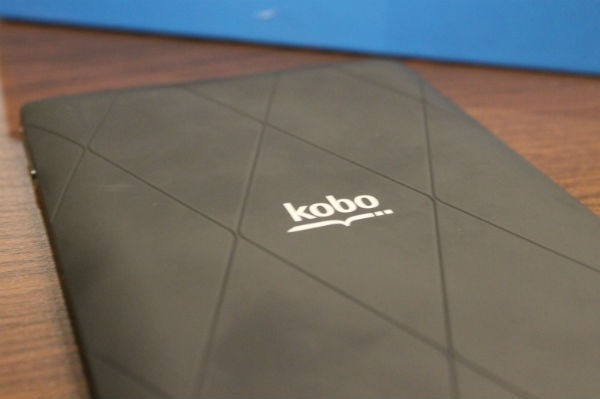 The Arc however just doesn't look very nice. The screen is surrounded by a black plastic bezel which is rather ugly and the camera and sensors are also embedded by this bezel. The speakers are also conspicuously located below the screen (in portrait mode).
While these may seem like small details, the overall impression I was left with was of a tablet with 2012 specs but 2010 styling.
The rear of the Arc features Kobo's unique replaceable covers, all of which feature a large hatched pattern. You can purchased other colours than the black which came with my review unit, with blue or purple also available. It's a nice idea, though I'm not sure it's a feature which will make people buy this tablet over another.
Kobo Arc: Screen
The screen on the Arc is identical in terms of resolution (800 x 1280) to the one found on the Nexus 7 and Kindle Fire HD, giving it a pixel density of 215ppi. While not the best on the market (that honour goes to the Nook HD) it is still excellent, and much better than the resolution on the iPad mini.
The IPS technology used in the screen means that viewing angles are great, with very little contrast shift. Kobo also claims it makes full use of the 16.4 million colours available to it, while other (unspecified tablets) stick to a standard set-up of 262,000 colours.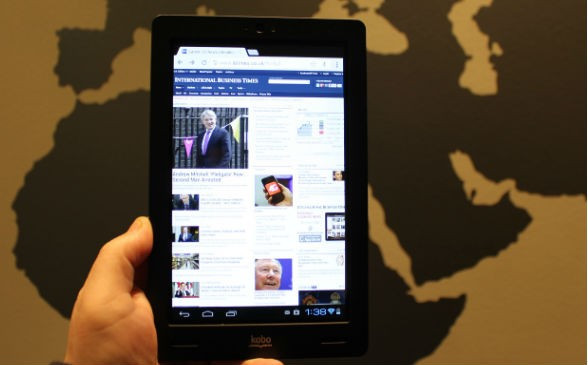 I have to say I didn't notice any major difference in colour reproduction, but the Kobo Arc does produce vibrant, rich colours without resorting to over-saturation.
Films and TV looks good on the Arc, without being anything spectacular, though Kobo seems to have done a good job at reducing glare which can be a problem while outdoors or in brightly lit rooms.
Kobo comes from an ereader background and using the Kobo reading app, text looks sharp and crisp, and the same can be said for web browsing.
The screen however is not very responsive. Compared to the screen on the iPad mini and the Kindle Fire HD, it feels as if the Arc is using a resistive screen rather can capacitive one (it's not though). Swiping 10 times though a book normally resulted in seven or eight page turns, while other tablets wouldn't miss a single one.
It was a similar experience when browsing the web or just navigating around the UI, as I had to repeatedly tap an app before it opened. If's a frustrating flaw.
Kobo Arc: Hardware
Kobo calls the Arc the fastest 7in tablet on the market thanks to its 1.5GHz processor and 1GB of RAM - and after using the tablet, I can't disagree. Everything I threw at it, it took without complaint.
The most processor-intensive operations like watching Full HD films, playing 3D games and streaming video never troubled the Arc.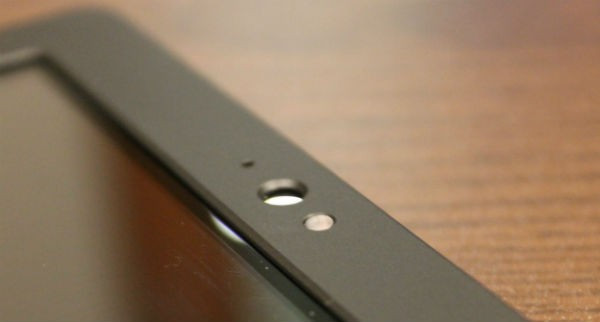 It was even able to handle playing an .mkv HD video while letting me simultaneously playing Temple Run (using DICE Player app's Pop-Up Play feature), without even blinking. Yes I know you will never need to do this, but it's a good example of what power the tablet has at its disposal.
In terms of storage, the Arc comes in 16GB, 32GB and 64GB versions but there is no microSD card for expansion. There's also no option for 3G, with wireless connectivity limited to Wi-Fi with Bluetooth also missing.
The speakers are the front of the tablet promise "a cinematic sound" and while this is like comparing the 1982 Spectrum computer game of The Hobbit to Peter Jackson's cinematic epic, the sound is still decent compared to most tablets.
The problem is that when you want the sound the most, when watching films in landscape mode, the two speakers end up on one side of the tablet and give you a somewhat one-sided experience.
There is no rear camera, which is no great loss, but Kobo does include a front-facing camera for video-calling which offers decent video quality.
Battery life for the Arc is pegged at 10 hours by Kobo, but we found it to be well short of this, with a full charge falling to 19 percent after only a few hours of playing games, reading and browsing the web.
Worryingly the battery life dropped dramatically even when the tablet was in standby mode, which Kobo says should last two weeks on a full charge.
Kobo Arc: Software
Google's Nexus 7 provides a "pure" Android experience while Amazon and Barnes & Noble's versions have been heavily customised, to the point of being unrecognisable as Android.
The Kobo Arc interface sits somewhere in the middle. The home page layout is not what you may have come to expect Android to look like on tablets, but underneath it's all Google.
The home screen is dominated by a "Discovery" bar along the bottom which provides recommended content for you based on what your read, watched, listened to.
Above this are what Kobo calls Tapestries, but to you and me they are called folders. There are ones for social, entertainment, reading and browsing. You can pin apps, websites, films etc to these Tapestries from within various apps.
They are fine, but really have little more function than folders do on traditional Android interface. Thankfully however, they can be deleted and replaced with app icons or widgets to create a more traditional Android look.
Kobo has included its own range of apps, including the reading app, Kobo Store, Kobo Library - and the Taste Profile app, which helps provide better recommendations for you when you tell it which content you like and don't like.
Crucially however, you are not limited to Kobo's content, as you are with Amazon and Barnes & Noble. You get full access to Google Play, meaning hundreds of thousand of apps, games, videos, music and books.
While the UI is certainly not slick and polished like iOS, it's not terrible and after a bit of messing about you can get it to look something like traditional Android, without much of the Kobo bloatware - though that Discovery bar is going nowhere.
Kobo Arc: Verdict
As I said in the introduction, if this tablet was launched last year (or even six months ago) it would have been a sure-fire winner. Now it is in danger of being lost in the crowd of budget 7in tablets.
It's rather clunky design does it no favours, and in the looks-driven world we live in, first impressions mean everything.
However, when you begin to use it properly, the Kobo Arc is a perfectly decent 7in tablet. A great screen, powerful processor, good speakers, budget price and full access to Google Play, make this a very attractive proposition.
However, a few minor niggles such as questionable battery life, an unresponsive screen and a clunky interface mean most people will likely look elsewhere when it comes to buying a 7in tablet. If Kobo could reduce the price to £129 it may have a chance, but that's unlikely in the short term.
The Kobo Arc offers a lot, just not enough over its competitors.
Scores:
Screen: 8/10
Design: 7/10
Operating System: 7/10
Build Quality: 9/10
Value: 9/10
Overall: 8/10
The Good:
Fast processor
Good value
Good screen resolution
The Bad
Iffy battery life
Unresponsive screen