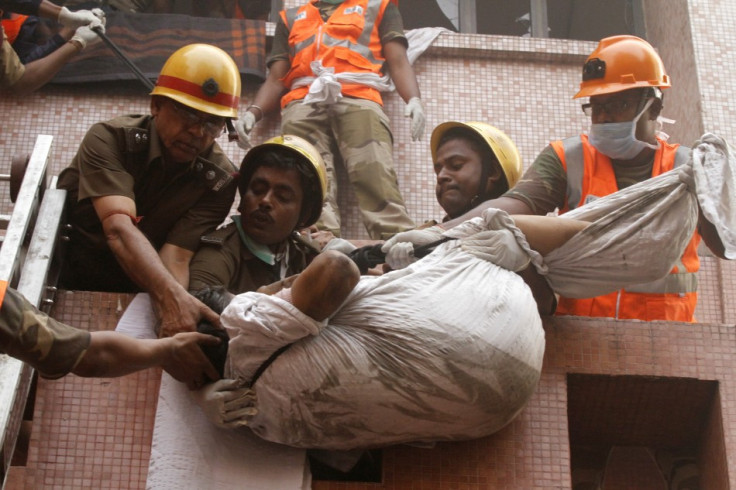 The death toll in the massive blaze at a privately owned five-star hospital in the eastern Indian city of Kolkata is mounting, making it one of the worst in living memory in the history of the country.
According to local media reports, 90 people have lost their lives in the inferno which started at the AMRI Hospital early on Friday morning. Scores of others have been injured.
The incident has also exposed the lack of safety measures that are supposed to be in place in establishments that handle large numbers of people. Local media reports have said that the fire originated from a stock of carelessly piled up inflammable objects in the basement of the hospital.
"Most of the deaths were caused by suffocation," Javed Khan, a minister of the state of West Bengal of which Kolkata is the capital, has told reporters. Six people, including a top industrialist who owns the hospital, have been arrested in connection with the incident.
The Indian government has announced a compensation of Rs 2 lakh each for the families of the dead, whereas the West Bengal state government has promised a compensation of Rs 3 lakh each for the families of the deceased.
Mass tragedies such as fires, building collapses and rail accidents are a regular feature in India, most of which are blamed on the lack of adequate safety measures.
Meanwhile, the government of Jammu and Kashmir, another Indian state, has ordered a review of fire safety measures at all major hospitals in its territory in the wake of the Kolkata tragedy, the Hindustan Times newspaper has reported.
There were angry reactions over the lack of safety measures on social networking sites. "terrible. 73 killed in a fire in a hospital in kolkata! patients trapped. what is this a punishment for?," tweeted Harsha Bhogle, cricket commentator and journalist. Writer Taslima Nasreen wrote on her Twitter page: "Hospital fire in Kolkata.73 dead. FIR against owners! The rich tycoons Goenka & Todi will have fun & high tea at the police station."
Shekhar Kapur, film maker, tweeted: "Over 40 patients suffocate 2 death in Kolkata hospital. No fire safety in place. Y? R v becoming a nation immune 2 loss of life?"