Kosovo accuses Serbia of planning to seize slice of state
The two Balkan neighbours are each claiming the other wants to start a new regional war.
Kosovo President Hashim Thaci has accused Serbia of planning to seize a slice of northern Kosovo just as Russia annexed Ukraine's Crimea region in 2014.
Thaci told Reuters on Monday (16 January) that a train painted in Serbia's national colours and bearing the words 'Kosovo is Serbia' was stopped from crossing the border by special police units two days earlier.
The train, which was to link Serbia's capital Belgrade with the ethnic Serbian enclave of Mitrovica, carried the slogan "Kosovo is Serbia" in 20 languages, and was decorated with images of Serbian Orthodox religious icons, some from Kosovan monasteries. Hostesses were dressed in Serb national colours.
Serbia claimed the train was simply a celebration of its national heritage.
Thaci said the train was aimed at provoking Kosovars, to give an excuse for Serbia to intervene militarily and annex the northern areas of Kosovo, which are home to around 50,000 ethnic Serbians who have refused to accept the province's independence and are insisting on being ruled by Belgrade.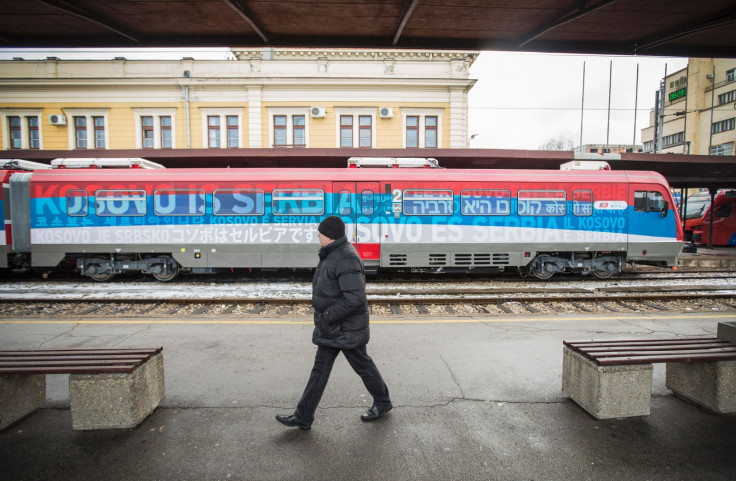 "Serbia's intention is to use this train, which was donated by Russia, first to help carve away the northern part of Kosovo and then ... attach it to Serbia. It is the Crimea model," Thaci said in an interview with Reuters.
Ukraine's Crimea peninsula, which is the home to Russia's Black Sea fleet and is populated mainly by ethnic Russians, continues to express loyalty to Moscow rather than the newly independent government in Kiev, even after the collapse of the Soviet Union in 1991. Crimea's ethnic Russians welcomed Moscow's annexation, which was undertaken by soldiers wearing unmarked uniforms, Reuters said.
Tensions between Serbia and Kosovo have increased recently after former Kosovo prime minister Ramush Haradinaj was arrested in France based on a warrant from Serbia, which accuses him of war crimes.
A former Serbian province, Kosovo unilaterally declared independence in 2008. This came after the break-up of the former Yugoslavia and the conflict in 1998-1999 in which Nato attacked Serbia, killing many civilians. Nato still has around 5,000 troops based in Kosovo.
Serbia is not the only country that has refused to recognise Kosovo's independence in 2008. In addition to its close ally, Russia, some other countries also do not view Kosovo as a separate state.
On Sunday (15 January), Serbia's President Nikolic threatened to send troops back into Kosovo. "If they are killing Serbs, we will send the army, all of us will go. I will go as well, it would not be my first time," he said.
Nikolic is a former member of the ultra-nationalist Serbian Radical Party. In the 1990s he fought along Serb paramilitaries in Croatia.
© Copyright IBTimes 2023. All rights reserved.