A tear gas canister has been set off in the Kosovan parliament for the fourth time, disrupting proceedings, in what has quickly become a common protest tactic against proposed deals with Serbia and Montenegro.
Opposition politicians have vowed they will not allow parliamentary sessions to go forward until the government overturns agreements with Serbia which give more power to ethnic Serbian groups in Kosovo and on the frontier with Montenegro.
The use of tear gas, pepper spray, water and whistles has become commonplace in the legislative chamber over the past three months. In the pandemonium, guards were directed to the upper floors of the parliament building to track down the perpetrators.
One MP was arrested before making it inside the building when he was stopped by police and found to be carrying two tear gas canisters.
Associated Press quoted opposition politician Glauk Konjufca as saying: "There will be confrontation. We shall not allow holding of the assembly sessions." He added that his Self-Determination Movement Party would not allow sessions to be held in any other locations around the building either.
Two Kosovan members of parliament have been arrested amid the growing pandemonium and arrest warrants have been issued for two more.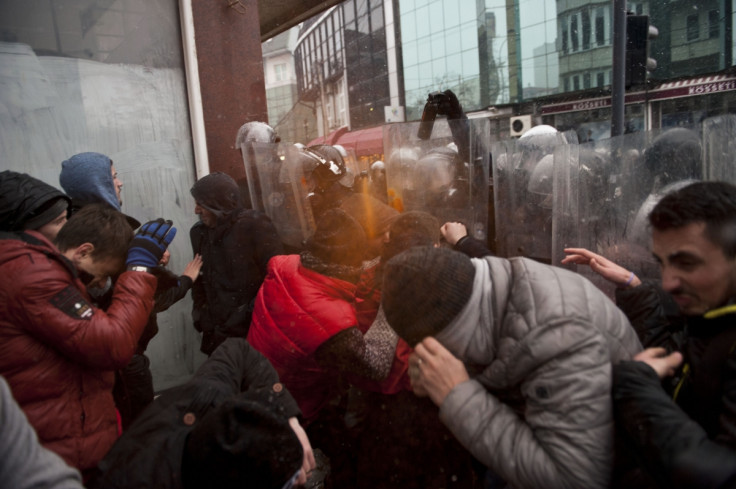 Government politicians in Kosovo have called for the opposition to be suspended over its illegal tactics. Prime Minister Isa Mustafa has accused the opposition of trying to come to power by force.
The opposition says the government's proposals represent a threat to the independence Kosovo declared from Serbia in 2008.
Kosovo broke away from Serbia in 1999, aided by 11 weeks of Nato bombing to halt the killing and expulsion of ethnic Albanian civilians by Serbian forces trying to crush a two-year guerrilla insurgency. After almost a decade as a ward of the United Nations, the majority-Albanian territory declared independence in 2008 and has been recognised by more than 100 countries. However, this does not include Serbia or its big-power ally Russia.