The leader of the Ku Klux Klan, Thomas Robb, says that he can foresee more violence on the streets of the US even after the horrific Charlottesville attack.
On 12 August one woman, Heather Heyer, 32, was killed when a man allegedly rammed a car into a crowd that had gathered to protest the "Unite the Right" rally in Virginia.
The man was later identified as 20-year-old James Fields and his links to the far-right are subject to a police investigation.
Since the attack, US President Donald Trump has been criticised by not condemning the attack and subsequent violence committed by white supremacists strongly enough.
Trump did criticised "both sides" of the protest and since the attack some on the far-right believe they have been unfairly targeted by the mainstream media.
These include national director of The Knights Party, also known as the Knights of the Ku Klux Klan, Thomas Robb.
Head of the controversial organisation since the 1980's and has previously described the KKK as a harmless organisation, claiming that it is "gentle, upbeat, and friendly" in 2001.
Using the internet, radio and TV shows, and publishing a quarterly magazine called 'The Crusader' the Harrison, Arkansas resident is on the charm offensive trying to seduce new members to the group.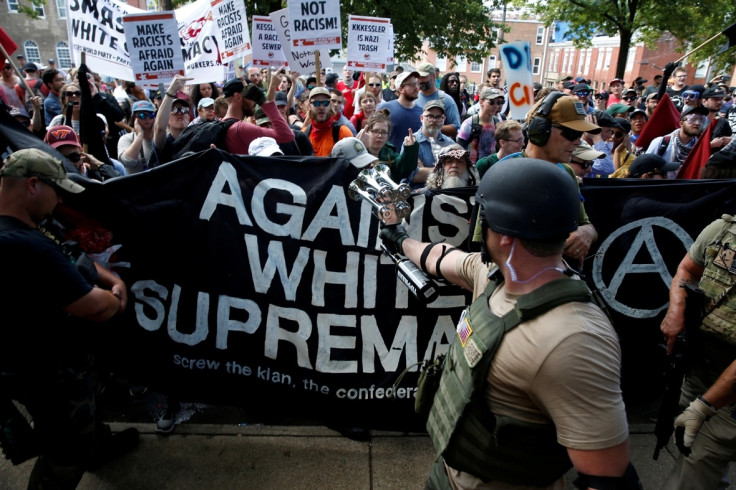 And in an interview with Sky News' Cordelia Lynch, Robb said he is convinced there will be more violence if: "Politicians only want to condemn the white nationalists...and don't want to equally condemn the Antifa and the Black lives Matter, it emboldens them."
In fact he claims the group are "desecrating cemeteries, taking down monuments of our heroes" in reference a number of statues that have been pulled down or been covered up.
The report said that Robb affirmed that he wants black people have a right to be black and his group, consisting mainly of Christians, are just determined to protect white identity although gay people were an "abomination."
Trump's comments about the neo-Nazi faction at the Charlottesville rally led to a split in his own party with many GOP candidates airing grievances about the way he dealt with the incident.