Syrian Kurdish Peoples Protection Units (YPG) forces launched a major offensive in the early hours of Monday, 22 August, against government forces in Hasakah in northeastern Syria. Clashes between the two forces intensified in the past week, marking the most violent confrontation between them since the Syrian civil war broke out more than five years ago.
Hasakah is already divided into Kurdish-held zones and government-control areas. The latest assault is aimed at taking over the last government-controlled parts of the city in the southeastern district of Nashwa.
The YPG is a major ally of the US-led coalition in the drive against the Islamic State (Isis). Kurdish forces have asked the pro-government militias in the city to either surrender or face death, Kurdish forces and residents were quoted by Reuters as saying. The YPG militia had already seized Ghwairan, the only major Arab neighbourhood under government control. As fighting intensified, the Syrian army deployed warplanes against the main armed Kurdish group, a first by the pro-government forces.
Amid continued fighting between the Kurdish forces and the regime militias, Russia is trying to negotiate a peace deal between the warring parties. Russian efforts to end the clashes through mediation are ongoing as are the clashes, Rudaw, the English language online daily published from Kurdistan, reported.
The Syrian Observatory for Human Rights said on Sunday (21 August) that Kurdish militias were advancing towards government-controlled parts in the south of Hsaskah, having already seized several territories in the Damascus regime-held neighbourhoods. There are also reports of retreat by regime forces ahead of Kurdish advances.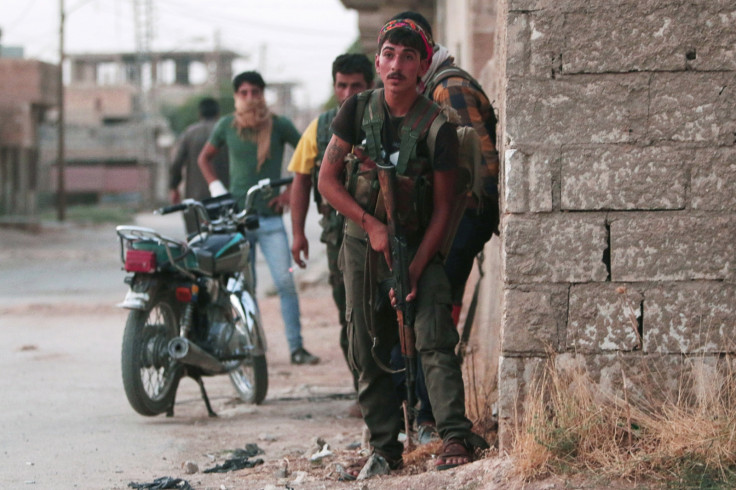 Amid continued fighting in Hasakah, Syrian state media has accused the YPG-affiliated security force, called the Asayish, of violating a ceasefire. The state media reported that Asayish is aiming to take control of the city and has ignited violence in the region through "provocations" by bombing army positions and government buildings, Reuters reported.
However, the YPG denied it agreed to any truce and instead made announcements through leaflets and loudspeakers across Hasakah, asking army personnel and pro-government militias to surrender or be killed. "To all the elements of the regime and its militias who are besieged in the city you are targeted by our units," leaflets distributed by the YPG reportedly read. "This battle is decided and we will not retreat ... We call on you to give up your weapons or count yourselves dead," the message added.