Syrian rebel forces preparing to attack Isis-controlled town of Jarablus along Turkey border
Senior rebel leader says the attack would be launched from Turkey over the next few days.
Turkey-backed Syrian rebel forces are gearing up to launch an attack on Jarablus town along the Turkish border to eliminate Islamic State (Isis) militants from the area. The seizure of the town, located on the western banks of the Euphrates River, by rebels would prevent forces loyal to President Bashar al-Assad's from advancing or taking over the town.
Jarablus is the last significant town under IS's (Daesh) control on the Syria-Turkey border. It is located 34 miles (54 km) east of al-Rai, another border town that was recently seized by the rebels from the Islamist militant group. Syrian Democratic Forces already control the eastern bank of the Euphrates on the opposite side of Jarablus.
A senior official from the Free Syrian Army, who is aware of the group's plans, told Reuters on Sunday (21 August) that its forces are ready to launch an attack on Jarablus from within Turkey in the next few days. He added: "The factions are gathering in an area near the border (inside Turkey)."
The rebel leader also said that IS recently pulled its fighters out of Jarablus and noted that their imminent attack was aimed at completely ending the militant outfit's presence along the Turkish border. "There will certainly be resistance. They will have mined it heavily. The operation of entering Jarablus will not be easy," he said.
Meanwhile, the Syrian Observatory for Human Rights said that on 19 August families of IS militants were moved from Jarablus and another nearby town of al-Bab to the group's stronghold of Raqqa.
Another source told Reuters that rebel forces were gathering at a Turkish military camp near the town of Qarqamish just opposite Jarablus. "Every day there are groups of fighters entering from inside Syria across a secret crossing to a Turkish base where they are gathering in preparation of the assault on Jarablus," the person added.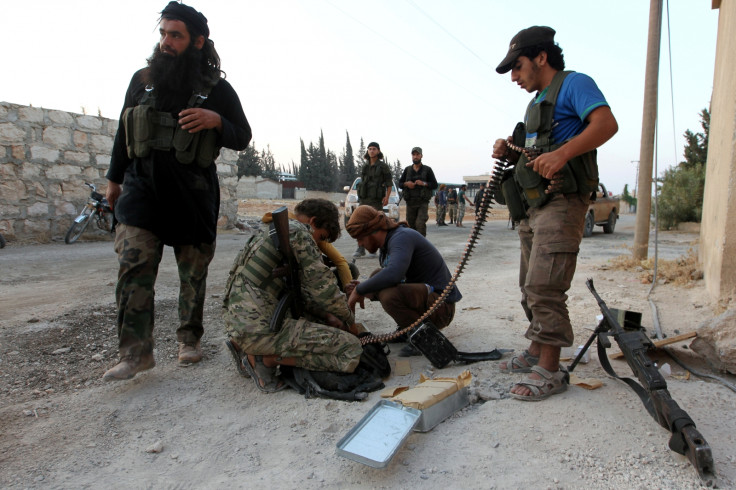 Members of rebel forces Failaq al Sham, Sultan Murad, Ahrar al-Sham and Jabha al Shamiya from Syria's northwestern Idlib province are uniting to carry out the assault. However, the Jarablus military council – a group allied to the Syrian Democratic Forces – issued a statement on Sunday urging US-led coalition forces to support the rebels from advancing. The council alleged that Turkey is backing radical jihadist groups in the Syrian civil war.
© Copyright IBTimes 2023. All rights reserved.