Kurds rail against government corruption as protests turn violent in Iraqi Kurdistan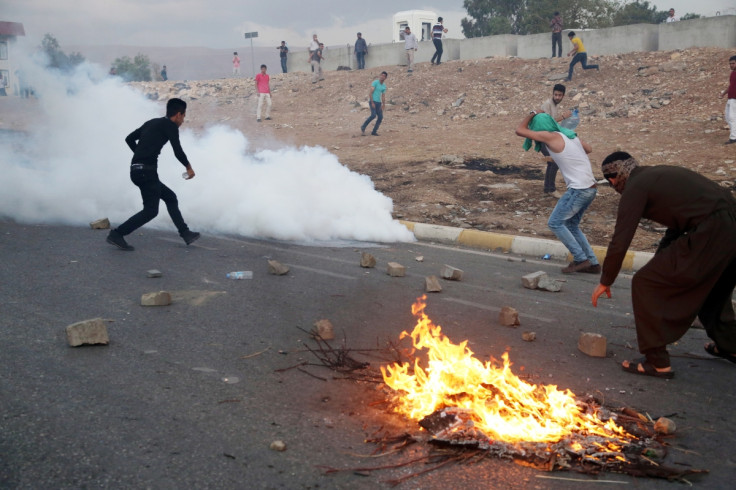 For the past two weeks, Salem Street – the main thoroughfare through Iraqi Kurdistan's second city of Sulaymaniyah – has been blocked by hundreds of striking civil servants demanding their unpaid salaries. Facing them, hundreds of riot police and armed security forces stand guard, deployed to protect government offices after protests turned violent over the weekend.
While the Kurdish region of Iraq is governed by the ruling Kurdistan Democratic Party (KDP) from its heartland in Erbil, Sulaymaniyah remains opposition heartland. It is at the centre of an ongoing power struggle between political parties that threatens to split the region – seen as the only stable force in Iraq and the west's most reliable ally against Islamic State (Isis).
Meanwhile, many ordinary Kurds, who were previously united against the existential threat posed by the fundamentalist terror group, are losing faith in their government with thousands now hoping to emigrate to Europe.
A months-long dispute over the presidency of Iraqi Kurdistan escalated on Monday, when Gorran Movement member and parliamentary speaker Youssef Muhammad was denied entry into Erbil by KDP security forces and Prime Minister Nechirvan Barzani unilaterally fired four Gorran ministers from the cabinet. The Gorran, or Change movement, is the second largest party in parliament, and along with the Patriotic Union of Kurdistan (PUK) and two Islamist parties had participated in a power-sharing government with the KDP.
The political parties have been deadlocked since 20 August when President Massoud Barzani's term expired. Barzani (Nechirvan's uncle) has held office since 2005. The law limits the president's term to two terms but Barzani's was extended by two years in 2013. The KDP seeks a further extension of his term, which is opposed by Gorran and KDP rival PUK.
After the latest meetings in Sulaymaniyah failed to resolve the crisis, demonstrations in cities across opposition-controlled regions turned violent, with protesters torching KDP offices, while at least six people were killed.
The KDP accused Gorran of orchestrating the protests, with the chairman of the Kurdistan National Security Council, Masrour Barzani (President Barzani's son), writing on Twitter: "This was a deliberate plan by Gorran activists to incite hatred and violence." Gorran member Muhammad described the KDP's reaction as "a military coup d'état against the Parliament" and denied inciting protesters.
Protest organisers maintain what had started as peaceful demonstrations weeks ago only became violent when their original complaints were subsumed by growing anger at the failure to resolve the presidential issue. "For the parties, the political dispute is bigger than our demands," said Salman Mustafa, a 26-year-old student and civil society activist. "But their dispute has now come down to the ground and that's a disaster."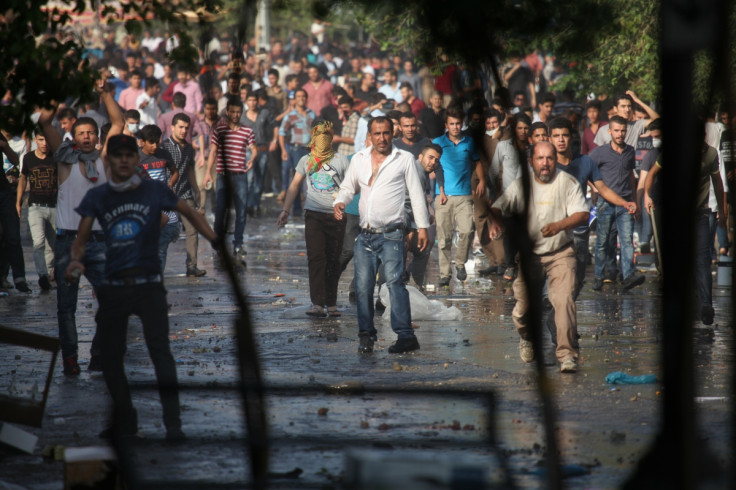 The core of the protesters are civil servants demanding the government pay their salaries, many of whom are three months in arrears. Teacher Aras Salim, 34, spoke of having to borrow money from relatives and buy food on credit, while others tell stories of sending their children to school hungry or facing the threat of eviction from landlords.
The government insists it is near bankruptcy due to low oil prices and shouldering the cost of the war against IS and its attendant humanitarian crisis, and says it lacks the funds to pay public salaries, which form the majority of its budget.
Not everyone accepts this, though. "The KDP tells us there's not enough money to pay salaries but the other parties say there is and the KDP are withholding it," said school director Bakir Shex Salam, speaking at the protest on Salem Street on Tuesday. "We don't know who to believe. We've become distrustful of government."
The Kurdistan Regional Government needs at least $700m (£453m) a month to pay public sector salaries but after abandoning an agreement with Baghdad to contribute 550,000 barrels per day in return for the resumption of federal budget payments, it is unclear how much it has earned from independent oil sales.
"There's half a dozen guys in the KRG oil ministry who know, and nobody else does," said Iraq Oil Report Kurdistan bureau chief Patrick Osgood. "There's this information gap which allows everyone to give their own version of events. Nobody trusts each other which contributes to the dilapidation of the government."
There is a sense too, that the politicians do not share the same hardship as ordinary people. "I can't afford to celebrate my kid's birthday but the children of the leaders are having parties overseas," claimed school director Salam.
Independent political analyst Ali Kurdistani agreed the political disputes have distracted the parties from serving their constituents. "They're behaving as if they own these institutions and cities." Meanwhile public discontent is likely to grow as long as the parties failed to reach an agreement on the presidency. "People have realised that while the presidential issue continues, there won't be a resolution to their financial situation," he added.
While the KDP argues for the extension of Barzani's term by reference to security and stability, and the PUK and Gorran refer to upholding rule of law in their opposition, observers see the dispute in terms of a power struggle that dates back to the civil war fought between the KDP and PUK in the 1990s.
They later came together to form a government in 2005, but their rival administrations – the KDP's based in Erbil and the PUK's in Slemani – never fully merged.
Important institutions such as the peshmerga, security and intelligence, and to a large degree finance, remain separate, with the bulk of the money and power remaining in Erbil. Even when important ministerial posts were given to PUK, and later Gorran, real power remained with the KDP, according to Kurdistani. Today the KDP views the challenge to Barzani's presidency as a "power grab", he said, adding: "In general, political parties in Kurdistan don't want to share the positions of power."
This unwillingness to compromise threatens to divide the region once more. "If you expel a political party from Erbil, or attack another political party in Sulaymaniyah, you're creating the same picture you had 15 years ago," Kurdistani said.
This threat of renewed instability and dire financial situation, means thousands of Kurds are now disillusioned by their leaders and looking for a way out. Reband Faraidun, a 19-year-old student sitting idle in the Sulaymaniyah bazaar, said like most of his friends he hoped to emigrate to to Europe via smuggling routes if necessary. "How is this living?" he asked. "None of us are [protesting] for our own fun."
© Copyright IBTimes 2023. All rights reserved.