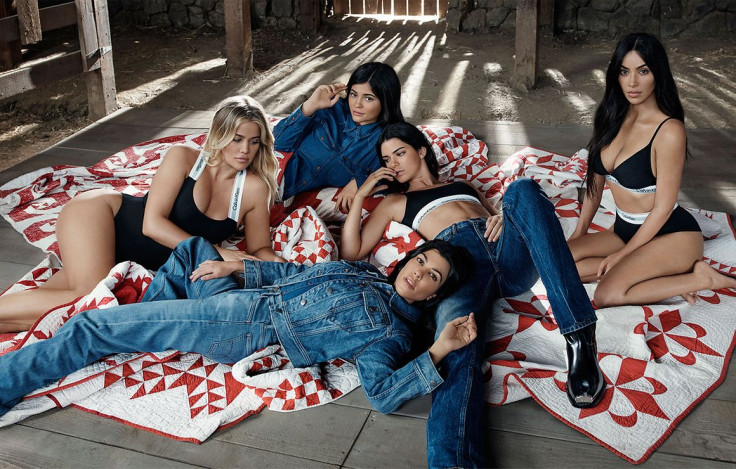 Kylie Jenner has been in hiding for several months since rumours of her first pregnancy emerged, and the 20-year-old didn't do much to stop the speculation with her latest professional shoot.
Lying alongside her scantily-clad sisters in Calvin Klein underwear in a new campaign for the famed US brand, Kylie, who was previously a big fan of skimpy clothing, is seen totally covered up – aside from a white bra on show.
Her sisters Khloe, Kim, Kourtney and Kendall are all showing off their toned midriffs and legs in the photos, while sporting low-key, natural makeup and "undone" hair.
The cosmetics mogul, who has been keeping a seriously low profile in recent months, is seen fully-clothed and half covered up by Khloe in another shot, while she wears a tracksuit in another.
The flesh-flashing campaign was shot by photographer Willy Vanderperre and is the latest chapter of a new campaign that features the siblings in Calvin Klein undies.
Since the #MYCALVINS concept has family at its core and celebrates a display of unity between strong individuals, it's no wonder the Kardashian sisters were chosen to front the campaign.
But fans have been reacting in their droves to the new pictures of Kylie covering her stomach, with one fan commenting on Calvin Klein's Instagram post: "Did she get paid for this? What is she advertising?"
As another wrote: "Kylie looks like she's photoshopped in here for the group hahaha."
A third added: "oh but looks who's covering her tummy ."
Someone else said: "kylie isnt pregnant then why is she covering her stomach. oh wait let me make this more clear .. why is she the ONLY one covering her stomach ??? its obvious that she's pregnant. she's trying too hard to hide it but we know at least make another sister cover her stomach so it wouldn't be obvious!! why cant she just end the rumors and admit it. Smh".
The latest photos of Kylie come after US talkshow host Wendy Williams speculated as to why she is not officially confirming the news, unlike her sister Khloe – who recently announced she is six months pregnant with Tristan Thompson's baby.
Commenting on why Jenner, 20, has remained silent about her pregnancy, she said: "Well, why do you think? I guessed right away: because she's not with Travis Scott anymore."
She added: "Please, that was a split and run, in my mind. Like, the condom split, she took the test and was probably like: 'Oh my god, what do I do now? Travis!'
"He's like: 'No, I'm a rock star. You got plenty of money on your own, figure it out... I'll pay child support from afar.'"