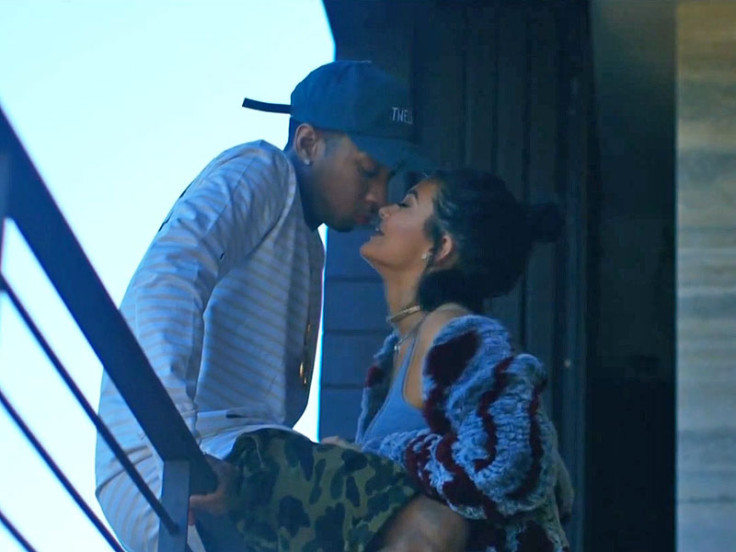 Kylie Jenner and Tyga have proclaimed their love for each other in the rapper's latest music video, or so it seems. The two can be seen sharing a kiss in the video of the song, titled Stimulated, which has already attracted negative reactions for its controversial lyrics.
The youngest member of the Kardashian-Jenner family is also seen hugging Blac Chyna's former boyfriend in the video where the rapper is talking about "having sex with the model".
The video begins with the 25-year-old walking in a lavish beachfront mansion in Malibu in the US, writing lyrics, wearing thick gold chains and rolling a cigarette.
The reality TV star then arrives in a bright green Bentley car, wearing distress jeans and a pink Louboutin pumps. She looks pretty in a white T-shirt and an army green bomber jacket. Then she makes her way to the living room and the balcony to meet up her beau, where he pecks her cheeks and gives a seductive hug.
The lyrics of the song have not gone too well with fans as it seemed like Tyga is talking about having sex with Jenner. The song goes like this: "I'm stimulated.. I'm at the bank, I'm penetratin'... I'm puttin' in, I'm penetratin'... I'm gettin' big, I'm stimulated. They say she young, I should've waited, She a big girl, dog, when she stimulated."
The rapper recently gifted Jenner a $320,000 Ferrari for her 18th birthday and the two have been more open about their relationship in the recent past. The model and the rapper were seeing holding hands in Mexico and in St Barths with the rest of the Kardashian family.
Both were also seen sitting together in the front row at the Video Music Awards show in Los Angeles.
Meanwhile, Kylie's eldest sister Kim also appeared in her husband Kanye West's music video titled Bound 2, where she is seen posing topless on a motorbike.