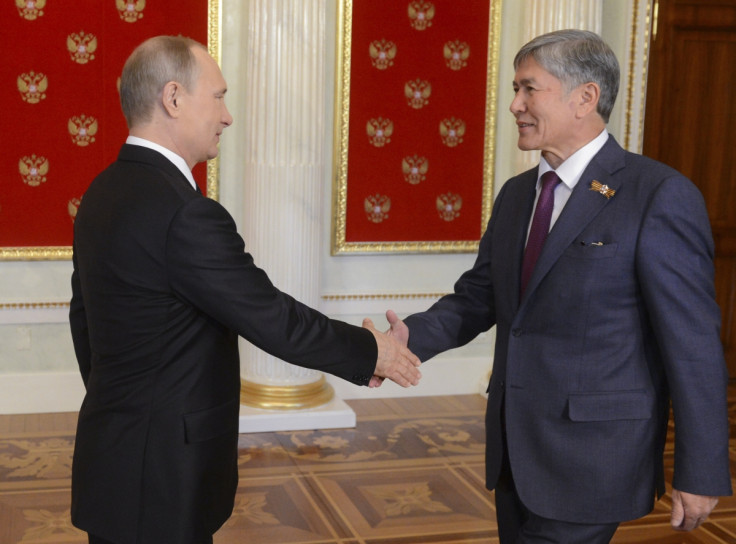 Pro-Russian parties are set to retain power amid corruption and security concerns in the former Soviet republic of Kyrgyzstan. Polling stations across the predominantly Muslim Central Asian country of 6 million opened at 8am local time (3am BST) on Sunday 4 October, with more than 2,000 candidates representing 14 parties running for 120 parliamentary seats.
The voter turnout was 45.7% throughout the country, said Prime Minister Temir Sariyev at a press conference at the end of elections, according to AKI Press. "As of 6pm [local time], 1,254,248 people voted during the elections making 45.7% voter turnout," he said.
The outgoing ruling Social Democratic Party of Kyrgyzstan (SDPK), who led the most recent coalition, which is still associated with President Almazbek Atambayev, appear on course to be the largest party. He resigned from the party in order to be elected as head of state in 2011.
On Sunday, Atambayev said he wanted his former party to lead a new ruling coalition with a stronger mandate. "For me, it's important to have a solid footing in parliament," the president told Deutsche Welle reporters after casting his ballot. "I hope today the Social Democrats will get more than 26 seats," he said, referring to the party's result in the 2010 election.
Other parties include Ata-Meken, Bir Bol and Respublika-Ata-Jurt, all of which feature former prime ministers on their party lists and are openly loyal to Moscow. Kyrgyzstan is a member of the Moscow-led military bloc, the Collective Security Treaty Organization (ODKB), and of the Eurasian Economic Union – an initiative of Russian President Vladimir Putin designed as a rival of the EU's free trade zone.
For the first time, Kyrgyzstan is using biometric data to prevent voter fraud but fears about how the data could be used meant some residents have not registered, preventing them from taking part in the poll. The new government measure has effectively sidelined hundreds of thousands of Kyrgyz migrants working in Russia and other citizens who failed to meet the 19 September deadline for submitting their data.
However, the International Crisis Group released a report describing Kyrgyzstan as troubled by Russia's economic downturn, instability in neighbouring Afghanistan and growing Islamic radicalisation. These risks are "exacerbated by leadership failure to address major economic and political problems, including corruption and excessive Kyrgyz nationalism".
"We have unemployment, we have external debt and so on. Every party promises a lot. But the thing is there are certain moments… we live in hope, you know," local resident Takhir Abdyrakhmanov told al-Jazeera.
Yulia Zakharchenko, a 36-year-old nurse said: "I don't expect much to change, though. The parliament will reconvene and it will be five more years of intrigue and corruption," she told AFP.
Ethnic clashes between Kyrgyz and Uzbeks left hundreds dead after the ousting of President Kurmanbek Bakiyev in 2010, in a coup that was seen as being encouraged by Russia. Around 17,000 military troops have also been deployed to protect election sites.