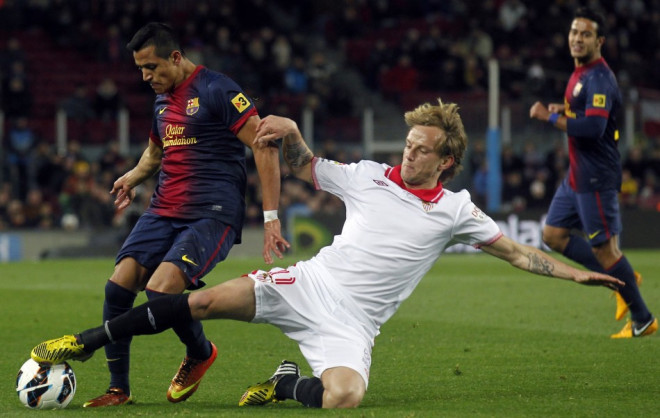 Liverpool and Manchester United have suffered a huge setback in their pursuit of Ivan Rakitic, as Sevilla president Pepe Castro has revealed that the Croatian star is set to commit his future to the club by signing a new deal.
The 25-year-old playmaker has excelled in the first half of the season for Sevilla and after scoring 10 goals and grabbing nine assists in just 22 league appearances a number of clubs have expressed interest in acquiring his services.
As well as the Premier League giants, Rakitic has been the subject of interest from Barcelona, who have reportedly earmarked the Croatian as Xavi Hernandez's long-term replacement.
The Croatian international still has 17 months remaining on his current contract but his agent has been in negotiations with Sevilla during recent months and according to the club president they have already agreed a principal agreement that will see Rakitic commiting his future to the La Liga side.
"Yes, we're in advanced talks with Rakitic. We've had two meetings and I believe that we've reached a cordial agreement. I don't believe there will be any problems in signing a new contract in the next several days.
"It's an important operations, perhaps the most important the club can aspire to at this time," Castro told Sevilla-based online newspaper El Desmarque.
Nevertheless, Castro did not confirm recent reports that suggest that the new Rakitic deal may include an important reduction in his £33m current release clause to facilitate a summer move.
"The principal agreement is clear and there shouldn't be any problem announcing the renewal in the next several days. I cannot reveal the details as we're still in negotiations."
Some Spanish reports claim that, even if Rakitic finally puts pen to paper on a new deal, Liverpool's and United's hopes of signing the La Liga sensation are not completely finished, especially if Sevilla have accepted his condition to reduce his buy-out clause.