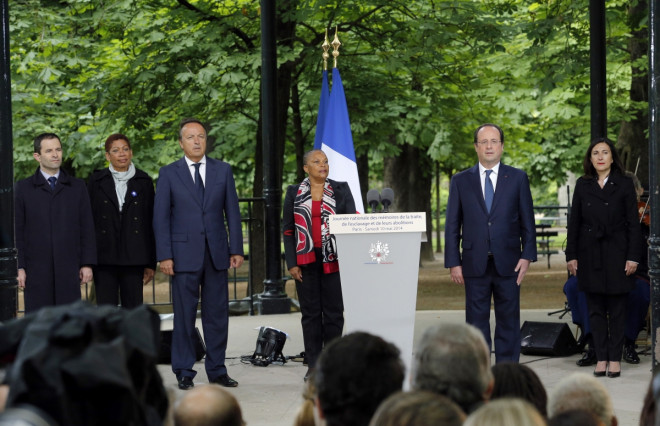 Nationalists and conservatives have demanded the resignation of France's justice minister for not singing the national anthem at an official event, claiming the moment was too solemn to engage in "stage Karaoke".
Marine Le Pen, leader of the far-right National Front (FN) party said that Christiane Taubira's refusal to intone La Marseillaise was "unacceptable" and revealed the true face of the socialist government.
"This is a symbolic proof of their disdain for France, its history and its people who love singing their anthem and are proud of it," Le Pen said.
Jean-François Copé, head of the centre-right UMP party, said he was shocked that a cabinet minister would compare singing the revolutionary march written by army officer Claude Joseph Rouget de Lisle in 1792 to karaoke.
"There are things that you have no right to say when you're a minister," he told Europe 1 radio.
Taubira, who was born overseas in French Guiana, South America, remained silent as La Marseillaise was played at a ceremony commemorating the abolition of slavery in Paris.
The minister replied to her critics claiming that the event, which was also attended by President Francois Hollande and Prime Minister Manuel Valls, "called for contemplation rather than stage Karaoke".
The remark backfired, drawing more criticism and triggering calls for her to resign.
In a similar case last year, FN called for footballer Karim Benzema be excluded from the France national squad after he said nobody could force him to sing La Marseillaise before a match.