The streets of Bunol in eastern Spain ran red recently as 20,000 people pelted each other with tomatoes in the 70th La Tomatina festival, a huge annual food fight. Crowds packed into the town's streets as seven trucks offloaded more than 150 tons of tomatoes.
And then the hour-long battle commenced...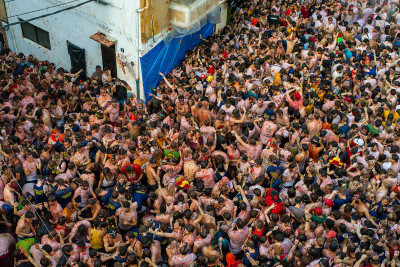 The enormous food fight began by accident in 1945, when a group of young men were excluded from summer celebrations and protested by throwing tomatoes from a street stall. The protest continued illegally every year until the town council accepted it as a festival in 1957, and it became famous internationally in the 1990s. It now attracts tourists from all over the world.
Although the party is free for locals, visitors have to pay a €10 (£7.30) entrance fee. To prevent overcrowding the event is now limited to 20,000 participants. The festival used to attract up to 50,000 revellers.