Google Doodle is celebrating the 70th anniversary of Spain's La Tomatina Festival, considered the world's largest food fight. The doodle was created by Nate Swinehart.
La Tomatina takes place on the last Wednesday of August in the town of Buñol, near Valencia, in eastern Spain. People around the world make their way here to take part in the festival, hurling over 100 metric tonnes of over-ripe tomatoes at each other.
According to La Tomatina's official website, the festival started during a parade in 1945, when a fight broke out in the crowd and ended near a vegetable market. The crowd then began throwing vegetables at each other. A year later, tomatoes and other vegetables were brought back to the festival for a second fight, and the tradition was born, though it is now restricted to tomatoes.
The festival was banned in the early 1950s. But the ban didn't affect the popularity of the festival. In fact, it soon grew into a major attraction with ever more participants. So much so, it was declared the "Festivity of International Tourist Interest" by the Department of Tourism.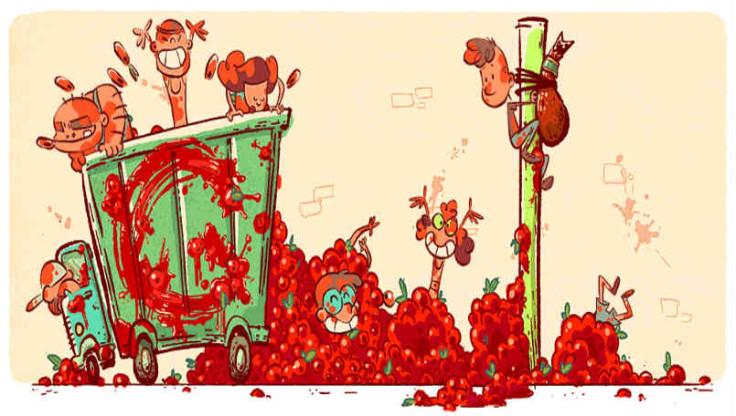 Some important rules to follow:
1) Squash the tomatoes before hurling at anybody.
2) Don't throw any other objects
3) Don't block trucks and lorries passing on the streets
4) No nudity. Don't even rip t-shirts
5) Stop when asked to
In recent years. La Tomatina is celebrated in some other places too.
More about Spain