Labour leader Jeremy Corbyn has announced 10 new appointments to his shadow cabinet amid a string of resignations from his top team in protest against the left-winger and his performance during the EU referendum campaign.
Emily Thornberry has moved from defence to shadow foreign secretary. Dianne Abbott has move from international development to shadow health secretary. Norwich South MP Clive Lewis, another Corbyn ally, has been appointed to shadow defence secretary. Pat Glass has taken on the role as shadow education secretary.
The reshuffle comes after Hilary Benn was axed as shadow foreign secretary over the weekend for saying that he had "no confidence" in Corbyn as leader after the UK voted to split from the EU at a 23 June referendum. Labour had campaigned for a Remain vote, but its heartlands backed a Brexit.
Benn's sacking triggered mass resignations from Labour's shadow cabinet, including Heidi Alexander stepping down from her shadow health secretary role and Lucy Powell quitting as shadow education secretary.
The spell of resignations come throughout Sunday (26 June) and a new batch of Labour MPs quitting Corbyn's team started on Monday, with Toby Perkins, the former shadow armed forces minister, and others quitting.
But despite the calls for a new leader, Corbyn, who secured almost 60% of the vote in Labour's 2015 leadership election, has remained defiant.
He issued a statement on Sunday evening saying that he would stay on. "I was elected by hundreds of thousands of Labour Party members and supporters with an overwhelming mandate for a different kind of politics," Corbyn said.
"I regret there have been resignations today from my shadow cabinet. But I am not going to betray the trust of those who voted for me – or the millions of supporters across the country who need Labour to represent them.
"Those who want to change Labour's leadership will have to stand in a democratic election, in which I will be a candidate.
"Over the next 24 hours I will reshape my shadow cabinet and announce a new leadership team to take forward Labour's campaign for a fairer Britain - and to get the best deal with Europe for our people."
Labour's parliamentary party plan to meet in the House of Commons tonight, after parliament returns from its recess. More than 3,000 pro-Corbyn activists have signed up to take part in a demonstration in Parliament Square at 6pm BST to show their support for the Labour leader. The protest is organised by the pressure group Momentum, which was set-up in the wake of Corbyn's leadership victory.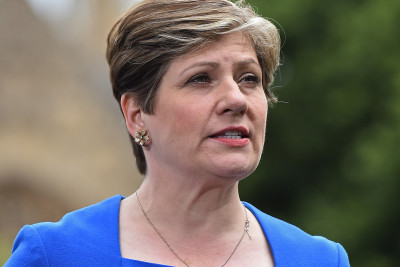 New appointments to Labour's shadow cabinet
Shadow Foreign Secretary - Emily Thornberry
Shadow Health Secretary – Diane Abbott
Shadow Education Secretary – Pat Glass
Shadow Transport Secretary – Andy McDonald
Shadow Defence Secretary – Clive Lewis
Shadow Chief Secretary to the Treasury – Rebecca Long-Bailey
Shadow International Development Secretary – Kate Osamor
Shadow Environment Food and Rural Affairs Secretary – Rachel Maskell
Shadow Voter Engagement and Youth Affairs – Cat Smith
Shadow Northern Ireland Secretary – Dave Anderson