Labour has slammed the Conservatives for failing to clear the deficit as promised in 2015 and increasing the national debt to record highs.
Shadow Chancellor John McDonnell declared that the last seven years of Tory austerity were a waste, given the failures to meet the manifesto promises.
His statement followed from figures released by the Office of National Statistics (ONS) on Tuesday (25 April) which showed that national debt has increased by 3% since last year – an increase of £123.5bn ($158.53). That brings the overall debt to £1,729.5bn, equivalent to 86.6% of GDP.
Figures also showed that the deficit would not be cleared until 2020 at the earliest, although annual government borrowing has presently dropped to its lowest level since the 2008 financial crash.
"The Tories promised when they were first elected that they would have balanced the books by 2015, but now they cannot promise to do it by 2020, and instead the past year has seen both borrowing and debt has increased," McDonnell said in a statement.
"[The] figures reveal that the national debt has gone up by £123bn since March last year, and with a Tory chancellor who won't rule out raising taxes on low and middle earners, and has no plan to deal with inflation rising ahead of earnings, it is clear the Tories want the rest of us to pay for their mistakes.
"Yet despite their broken promises on the public finances they continue to hand out tens of billions in tax giveaways to the super-rich and big corporations, while enforcing spending cuts on everyone else; underfunding our NHS and leaving our care system in crisis for the most vulnerable.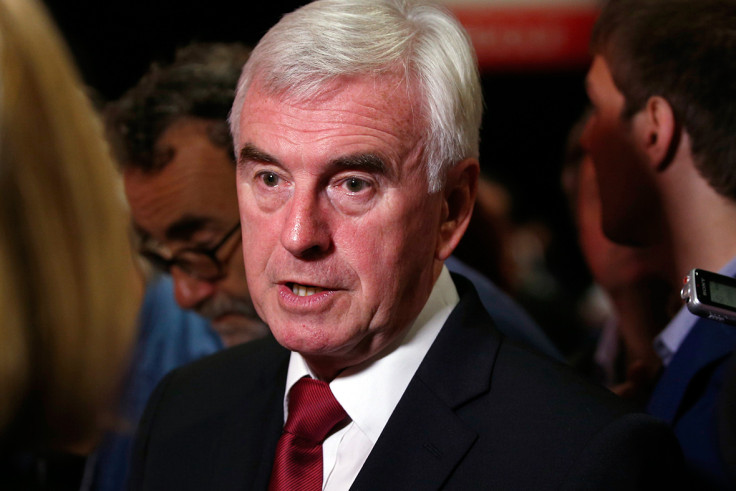 "Only a Labour government will have a serious plan for the public finances with strategic investment underpinned by our Fiscal Credibility Rule, so that we stand up for the many, not the few."
The Conservatives did not issue a public statement about the figures.
In their 2015 manifesto, the Conservatives said: "Failing to control our debt would be more than an economic failing; it would be a moral failing – leaving our children and grandchildren with debts that they could never hope to repay."
With regards to eliminating the deficit, the manifesto said: "Anything less would be to ignore the lessons of the past."