Labour's shadow chancellor John McDonnell has called for a fairer taxation system ahead of this Wednesday's (8 March) budget announcement.
Appearing on the BBC's The Andrew Marr Show on Sunday (5 March), the close alley of Labour leader Jeremy Corbyn outlined how his party would structure the economy if it was in power.
The veteran politician said Britain should no longer accept the public service cuts and growing income inequality seen under the Conservative government and that Labour would reverse that trend.
"We're the only economy in Europe that's growing while wages are falling," McDonnell said.
"So, it's clear what we have to do. It's very, very clear. First of all, people need a pay rise. We believe that there's a squeeze on living standards and we believe there should be a real living wage – that's £10 an hour.
"We also believe they need help with costs, so yes, capping energy costs. We believe actually bringing rail into public ownership will help us on reduced fares as well.
"But also we need to address the difference between men and women. We've still got a gender pay gap in this country. That's scandalous.
"All of those things can come about if we have a fair taxation system. We can tackle tax evasion and tax avoidance, which is on an industrial scale in this country; end the tax cuts to the rich, as we've seen under the Conservatives; and invest and grow our country.
"This is not rocket science. This is basic economics."
McDonnell restated proposals he made earlier in the week, suggesting that all people who earn over £1m ($1.23m) should publish their tax records, in what would be a radical shake up of the British tax system.
He said: "The overall principle about all this is that we have to have fairness back into our economy.
"That's why I'm saying the wealthy and corporations should be publishing their income tax returns so we can see whether there's fairness or not."
After it was revealed that Chancellor Philip Hammond was planning to build a £60bn ($73.78bn) Brexit fund to help Britain survive the economic turbulence associated with leaving the EU, McDonnell called for some of that money to be syphoned into the NHS, which is facing a shortfall of funding between £8bn and £12bn.
The demand comes a day after McDonnell was one of those to take part in a demonstration in London, calling for better funding of the struggling NHS.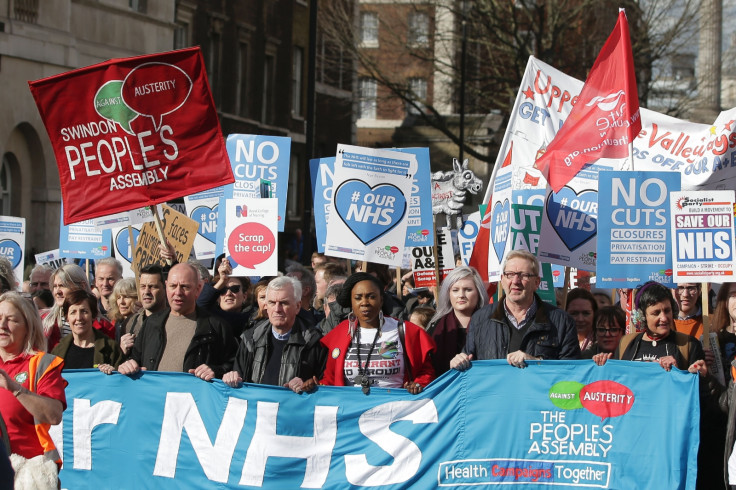 McDonnell added that he understood the popularity of Labour's proposals and called on the party's warring factions to unite so it could reverse the stark polling numbers and return to power.
"Well, I think you saw what Peter Mandelson said that week. He said, 'Every day, I do something to undermine Jeremy Corbyn. I make a phone call. I send an email.'
"There must have been people on the end of that line and at the end of that email chain to receive it.
"Actually, what's interesting, I think we've all looked over the edge on Copeland and we've decided we need to unite the party now.
"Yes, I will be having a cup of tea with Peter Mandelson – there will be lots we agree upon, there will be some disagreements – but I think the most important thing we've got is a responsibility to our party, but more importantly to the country."
He added: "I've said I'm happy to go along and talk to Progress [a Blairite political organisation with Labour] at any stage as well. Why? Our social care is in absolute crisis. The government's cut £4.5bn from social care. Elderly people are not getting the care they need, they're winding up at A&E, they're then being treated on trollies in hospitals, and then they can't come out of hospitals because the social care's not there.
"We've got to unite the party to provide an effective opposition so that we can then form a government."