Labour's Neil Coyle: I got blisters defending the EU as some Lib Dems abstained on Brexit
Bermondsey and Old Southwark candidate spoke to IBTimes UK on the general election campaign trail.
Labour's Neil Coyle will not be taking any lectures from the Liberal Democrats on Brexit as he battles one of the party's best known politicians, Simon Hughes, during the general election campaign.
Coyle, who won a majority of more than 4,400 votes in the London seat of Bermondsey and Old Southwark at the 2015 general election, said it is "easy" for the Liberal Democrat to claim that they are pro-EU.
"[But] two Liberal Democrats [Norman Lamb and Greg Mulholland] didn't even both voting against triggering Article 50, they only had nine MPs," he told IBTimes UK.
"So a fifth of your parliamentary party not bothering to turn up and vote is a bit of a disgrace.
"I have voted [against Article 50], it's made my life more difficult to vote on those issues, but I'm proud to have done what I know is right."
He added: "Liberal Democrats locally would have seen the difference in the referendum campaign.
"I was out and we have the blisters to show how much campaigning we did in the referendum. I was out when at least one of our MEPs was in tears to some of the reaction [on the doorstep]."
But despite Coyle's pro-EU credentials, the Labour leadership is now backing a Brexit. Will he pay at the battle box in Bermondsey on 8 June for Jeremy Corbyn's stance?
"I made a very simple promise in 2015 that I would never vote for anything that would harm this community and I've stood by that. Brexit is integral to that," Coyle said.
"People recognise that I've stood up even when the frontbench has been out of sync with Labour policy and Labour members, certainly with constituencies that voted so heavily to Remain like this one."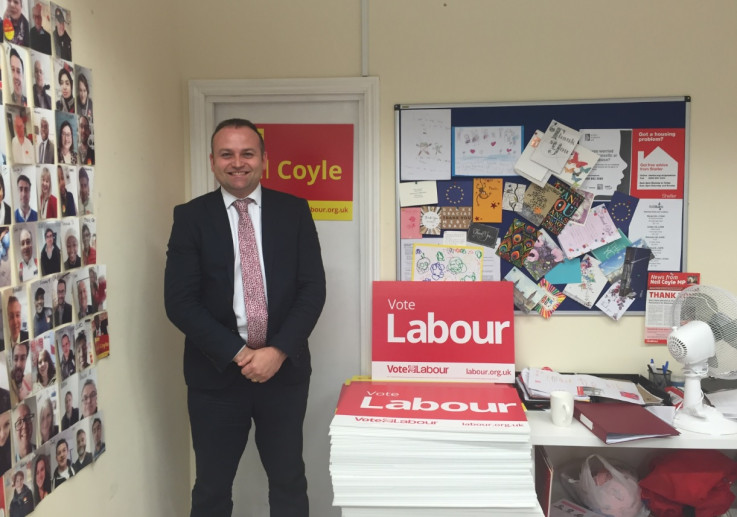 Neil Coyle
IBTimes UK/Ian Silvera
Clashes with Corbyn
Coyle nominated Corbyn for the Labour leadership after Ed Miliband's resignation in 2015. In a 2016 Guardian piece co-authored with the late Jo Cox, he later admitted that he had regretted the move.
Since then Coyle has clashed with Corbyn publicly.
The dispute come to a head in April when Coyle was referred to Labour's chief whip Nick Brown after a complaint from Karie Murphy, Corbyn's office manager. Coyle described the investigation as a "smear" campaign.
"There are a handful of people [in my constituency] who say Neil has been too critical," he said. "But most Labour members and supporters agree with me. My CLP voted for Owen Smith last year.
"When I'm out talking to members of the Labour Party they tend to be more supportive of a Labour Party I want to see – more focused on domestic issues, more focused on housing, policing and the health service we need. As well as proud and patriotic and wanting to be a bit more clear on our defence policy."
As for Hughes, Coyle claimed the the former justice minister failed to fight for Bermondsey's corner during his time in the Conservative-Liberal Democrat coalition government.
"I'm afraid when you run the same candidate who was a minister in a Tory government, who cut access to legal aid, this is a community where more than 4,000 people still pay the bedroom tax because he broke a promise to this community."