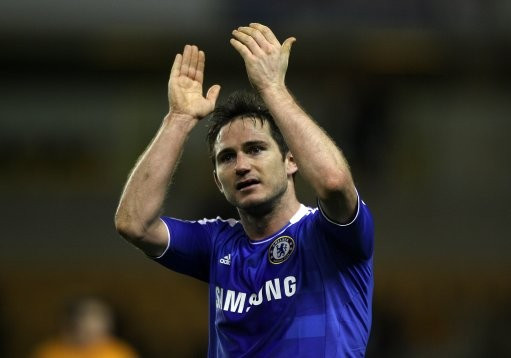 Chelsea midfielder Frank Lampard has thanked caretaker-boss Roberto di Matteo, as the squad's form in all three major tournaments continues.
Lampard scored his 150th Premier League goal for the club from the penalty spot in Easter Monday's 1-1 draw with Fulham.
The veteran Chelsea playmaker told the BBC: ""Robbie has been good to me. I have played more and when you play more you are more confident. A lot of credit has got to go to him.
"I think he has made a big change to everyone here."
The England regular continued: "I think you can see the atmosphere in the squad here by looking at the results - they speak for themselves.
"It's not easy for him to come in from being number two to take charge.
"He loves this club; he's got it in his heart. That's a great thing to see and everyone has reacted to that."
Lampard's goal was later cancelled out as Fulham's Clint Dempsey levelled scores in the dying minutes of the game.
"It feels like a defeat in there after leading for so long," he added.
"It's definitely a missed opportunity after Tottenham's result [a 2-1 loss to Norwich], but we knew it was going to be difficult coming here because they have been playing very well.
"Personal achievements are nice but it doesn't feel too good right now. Maybe when I am an old man looking back on it it will be nice but it's not right now."
Chelsea currently reside in sixth place, just two points behind high-flying Newcastle and out-of-form Tottenham.
The Chelsea midfielder said that he considered the position to be exciting, adding: "We are still fighting on a few fronts but we know it can all get taken away very quickly."
Di Matteo also told the BBC he was in high spirits following the recent run of form: "You look at it and we're closer to that fourth spot than we were. We were always playing catch-up, so the situation was difficult from the start.
"We have to look at it positively. We are closer now than we were a month ago.
"We've got a good squad, a squad full of good players. We will utilise them.
"Despite [Tottenham's] result, we just have to try and win as many points as we can. When you're playing catch-up, the pressure is always on the team behind.
"We're a point closer to the other team. That's how I see it. We have to think positive."
He also spoke positively of Lampard, calling him a "tremendous servant for the club and for the Premier League.
He added: "He keeps playing games and scoring goals for this club and it's good that he's at this club."
Chelsea will play Tottenham Hotspur in the FA Cup semi-final, Barcelona in the Champions League semi-final and face Arsenal, QPR, Newcastle, Liverpool and Blackburn in their last Premier League games.