Nestled in the lushly forested hills of Costa Rica is a paradise for dog-lovers – and dogs. More than 750 dogs bask in the sunshine and go for long walks across the open countryside. Territorio de Zaguates – or Land of the Strays – dog sanctuary in Carrizal de Alajuela cares for stray dogs rescued from city streets. The strays are taken to the sanctuary, neutered or spayed, and then fed, groomed and cared for by vets and volunteers.
All of the animals at Territorio de Zaguates are available for adoption. Potential owners don't have to page through hundreds of online photos – instead they can visit the sanctuary and meet the dogs. They can play with them and take them for long hikes until they fall in love with one (or more) of them.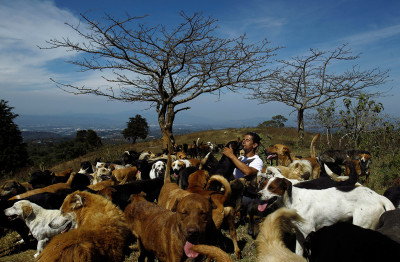 The 152-hectare sanctuary was set up by married couple Alvaro Saumet and Lya Battle, and is funded by donations. Around 8,000 dogs have passed through the refuge over the past eight years. There are more than a million stray dogs in Costa Rica, where the government outlawed putting animals down in 2003.