Barrel bombs have struck the largest hospital in rebel-held Aleppo on Saturday (1 October), days after it was shelled by missiles.
The facility, known as M10, was targeted by missiles on Wednesday (28 September) alongside the second-largest hospital in the area in an offensive that UN chief Ban Ki-Moon denounced as "worse than a slaughterhouse".
Now, the M10 hospital has been targeted again, though this time with air strikes.
"Two barrel bombs hit the M10 hospital and there were reports of a cluster bomb as well," Adham Sahloul of the Syrian American Medical Society (SAMS) said to AFP reporters.
The M10 hospital was said to be out of service after it was bombarded on Wednesday but Sahloul said a small group of patients and staff had been inside when the bombing began and remained trapped there.
Since July, both hospitals, which are supported by Medicins Sans Frontieres (MSF), were attacked a total of 14 times, SAMA reported.
Xisco Villalonga, director of operations at MSF, released a strongly-worded statement about the attacks on hospitals just hours before the latest strikes.
He said: "Bombs are raining from Syria-led coalition planes and the whole of east Aleppo has become a giant kill box. The Syrian government must stop the indiscriminate bombing; and Russia as an indispensable political and military ally of Syria has the responsibility to exert the pressure to stop this.
"[They] must put an end to the total disregard for humanity that is being displayed in Aleppo.
"The ruthless, brutal bombing must stop and urgent measures need to be put in place to allow the evacuation of the severely sick and wounded to areas where they can access adequate medical care.
"Anything short of this is confirmation of what many are dreading, that the world has abandoned the people of Aleppo to a violent, agonising death."
The UN said at least 400 civilians, including 96 children, have been killed in Aleppo this week as a result of Russian and Syrian government attacks.
It is believed that fewer than 30 doctors remain in eastern Aleppo, working in a healthcare infrastructure that many think is beyond repair.
"Over the last months, we have done everything we could to keep supporting the hospitals in Aleppo.
"Now, with a complete siege on the city, attacks on humanitarian convoys and intensive bombing, we are powerless," added Villalonga.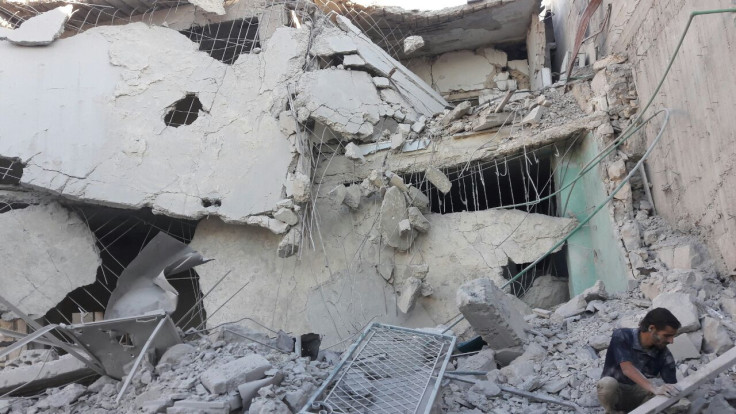 A spokesman for US Secretary of State John Kerry said Washington would no longer negotiate with Moscow unless the bombardment stopped.