Ukip have been forced to deny reports that Donald Trump has flown in Nigel Farage to coach him ahead of the next round of Presidential debates with Hillary Clinton.
However, a spokesman for the party did not rule out the possibility that Farage would be returning to the US before the debate.
The first clash between the candidates is widely accepted to have been won by Clinton, despite Trump's assertion that he was holding back because he did not want to embarrass her.
Ahead of their next encounter, Republican advisers will be drilling Trump on facts, issues and tactics, while Farage was reported to be contributing lessons learned during his Brexit campaign.
A Ukip spokesman denied the initial reports but did not confirm or deny if Farage would be heading to the US in the future.
Farage, who quit as Ukip leader shortly after the Brexit referendum, has long been regarded as a skilled orator. In April 2014, he beat Nick Clegg in a televised deabte on Europe and during the run-up to the EU referendum vote, David Cameron refused to debate with him, agreeing only to appear on the same programme.
While it is now unclear whether Farage will be working behind the scenes in the run-up to Trump's next clash with Clinton - in St Louis, Missouri on Sunday 9 October - he has publicly supported the businessman in the past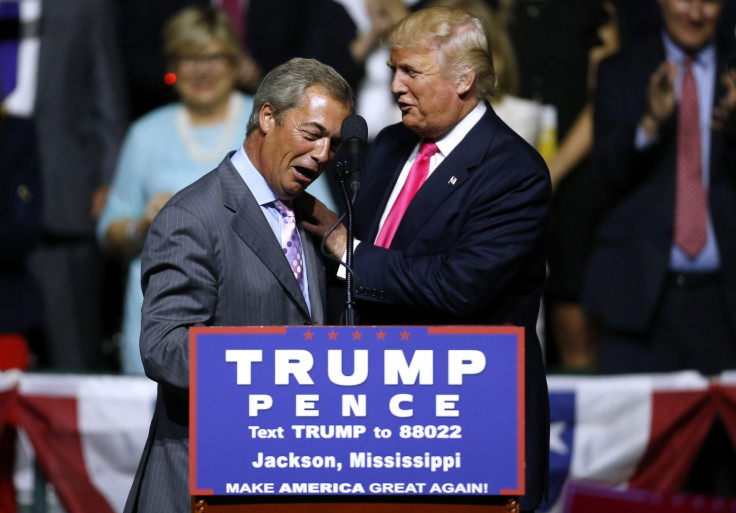 The pair appeared together at a Trump rally in Mississippi in August, when Farage told the crowd: "If I was an American citizen, I wouldn't vote for Hillary Clinton if you paid me."
Speaking to Reuters afterwards, he said: "It seemed to go down quite well. The next day Hillary Clinton was attacking me on a personal basis, so I thought 'Well, I must've got somewhere. I now strongly think Trump will win. I think Brexit is the first kickback against the establishment. It's not a British event, it's not a European event.
"It's a global event and I think it has implications for every Western democracy. In the case of America - absolutely.
"There are people in America who look at Washington, who look at the lobby and the power of big business, who look at the detachment of a political class from them and their lives in a very similar way to how many of us saw Brussels."
Farage hinted in his farewell speech at Ukip's conference last month that he may return to Trump's side, saying: "Who knows, I may even go back to the United States of America at some point."