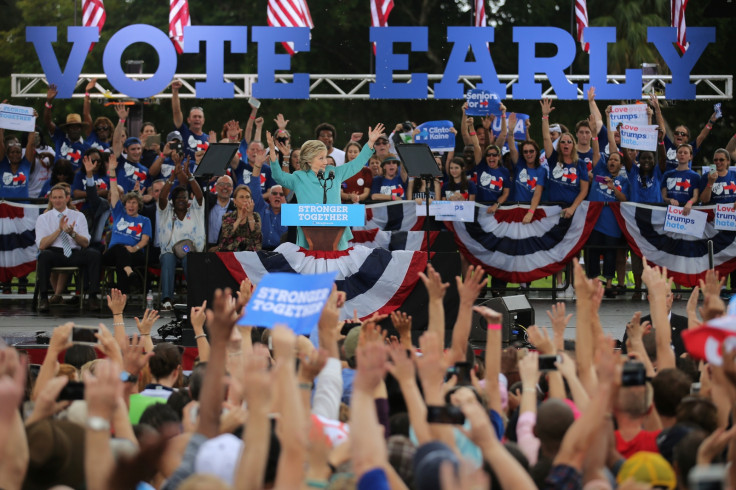 Hispanic voters are coming out to the polls in record numbers and it could spell disaster for Donald Trump and the Republican party. Initial numbers from early voting in key swing states show Hispanic voters are turning out and pushing Democrats ahead of Republicans.
Latinos in Nevada pushed Democrats ahead in early ballots in Clark County by 72,000 votes. Veteran Nevada political analyst Jon Ralston told Politico that those numbers are enough to gift the state's six electoral votes to Democratic nominee Hillary Clinton.
The closing numbers on Friday (4 November) for Clark County are not sitting well with Republicans. Nevada GOP Chairman Michael McDonald suggested something nefarious was behind the early voting surge.
"Last night, in Clark County, they kept a poll open till 10 o'clock at night so a certain group could vote," McDonald said at a Trump rally in Reno. "It wasn't in an area that normally has high transition. The polls are supposed to close at 7. This was kept open till 10. Yeah, you feel free right now? Think this is a free or easy election?"
But it is not just in Nevada that Hispanic voters are turning out early to the polls. According to the Washington Post, early-voting turnout among Hispanics in Colorado, Florida and Arizona have given Clinton a chance of winning those battleground states.
Florida's Cuban American residents, who traditionally align with Republicans, appear to be backing away from their party's nominee. Maria Ballaster, a 60-year-old Cuban American Republican from Coral Gables, told the Washington Post she plans to vote for Clinton this election. Ballaster is, however, sticking to her party's choice for US Senate, Marco Rubio. "I trust Rubio, but I don't trust Mr Crazy," Ballaster told the Post.
Latinos in the Sunshine State are also outpacing their 2012 early voting numbers, Politico noted. Hispanics have cast about 14% of the state's 5.7 million early and absentee ballots.
Clinton's campaign has taken note, with the Democratic nominee campaigning in a handful of immigrant communities on Saturday (5 November). "We are seeing tremendous momentum, large numbers of people turning out, breaking records," Clinton said during a rally in Pembroke Pines, according to The New York Times.
Arizona, meanwhile, has seen the largest rise of early voting by Hispanics of any state, according to AZ Central. By 30 October, 13% of early ballots in Arizona were made by Latino voters, up from 11% at the same time in the 2012 election.
According to Latino Decisions weekly tracking, Clinton is leagues ahead of Trump among Hispanic voters nationally as well. The latest poll, released on Sunday (6 November), shows Clinton with 76% support among Hispanic voters, compared with 14% for Trump.