Following a frenzied Donald Trump rally, which saw the Republican presidential candidate bundled off stage by US Secret Service bodyguards amid a gun scare, both Donald Trump Jr and the campaign's social media manager Dan Scavino have fuelled claims the incident was an assassination attempt.
In a series of posts on the social media platform Twitter after the commotion, Jack Posobiec, an activist with "Citizens for Trump" and self-proclaimed "recovering political operative" made a number of unsubstantiated claims about the events that occurred on the night.
Without evidence, he posted an image from the Nevada rally he claimed depicted the "Trump assassin" and later added the man in question – who we now know was simply holding an anti-Trump placard – was "tied to a black ops shadow intel group".
The protestor has since been named as 33-year-old Austyn Crites. He has alleged he was tackled to the ground, punched and choked by Trump supporters after brandishing a "Republicans Against Trump" sign during the event in Nevada.
Posobiec said that because Crites was named in documents as buying a book from the US government-linked intelligence group Stratfor, he was part of a conspiracy. Posobiec posted links to files hosted by whistleblowing organisation WikiLeaks to support his claim.
Both Donald Trump Jr and Dan Scavino then retweeted Posobiec's claims.
At the same time, Posobiec appeared to indicate Crites was working undercover and was linked to the Hillary Clinton campaign. He tweeted a picture that read: "Stop Democrat Violence". This, too, was circulated by Donald Trump Jr to his 760,000-plus followers.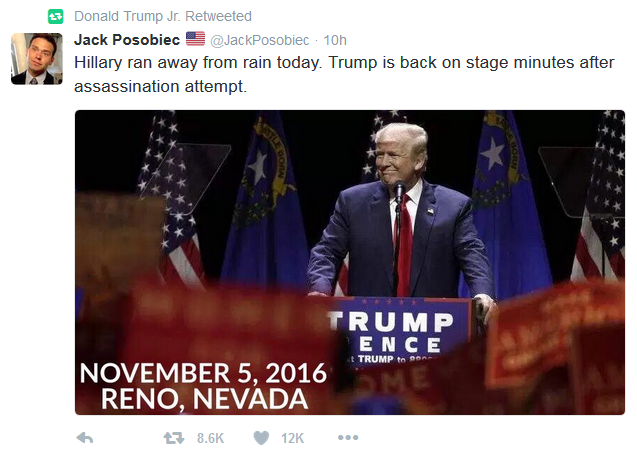 When checked by IBTimes UK, Crites does appear in WikiLeaks' Global Intelligence Files, which consists of documents stolen from Stratfor back in 2013. He is included in a mailing list of people who ordered a book called The Next Decade.
According to Amazon, the book is authored by George Friedman, the chief executive and founder of Stratfor. There is no suggestion that by ordering the book Crites is part of a "black ops" shadow unit, as Posobiec suggests.
As reported, the anti-Trump protestor addressed media after the incident. He said: "I'm a Republican and have been supporting Republican candidates for quite some time. But I just don't support Donald Trump. I've been fairly vocal during the primary process as well as now.
"You know I agree with them on many, many different issues but I just believe that, you know, he's very dangerous for the country. And so I just came with a sign, I literally just had one sign that said 'Republicans against Trump'."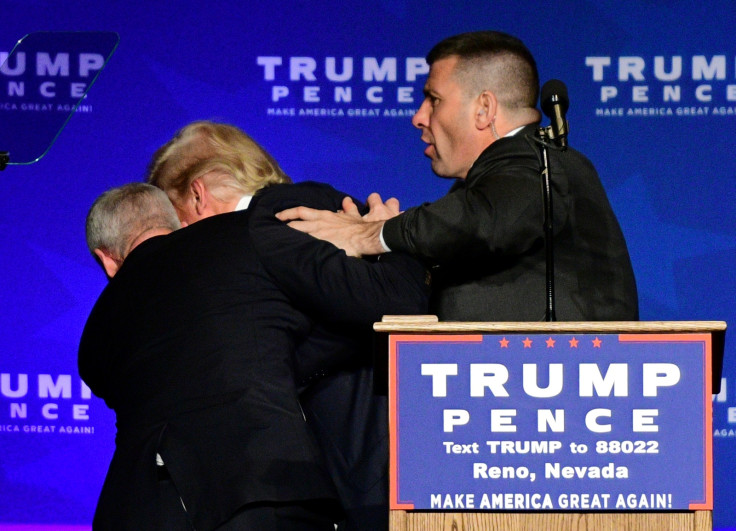 Crites claimed that "it looked like" Trump was pointing at him and that he may have been "instigating something". He told The Guardian: "There were people wrenching on my neck they could have strangled me to death."
Following the event, Donald Trump tweeted: "Thank you Reno, Nevada. Nothing will stop us in our quest to make America safe and great again."
One commenter replied: "Bro, you ran away because a dude tried to hold up a sign."