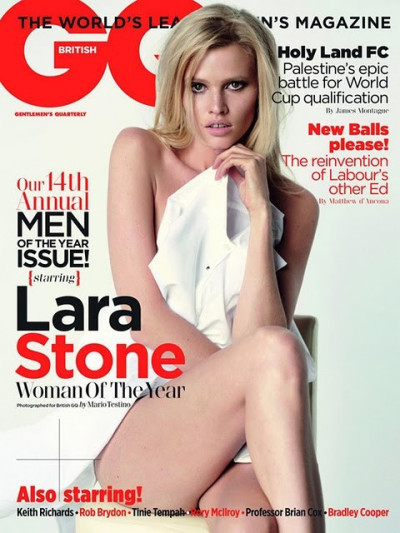 Sexy images have been released of supermodel Lara Stone on the cover of GQ's October issue.
Stone was announced as GQ's "Woman of the Year" in its 14th annual "men's issue."
The Dutch-born supermodel has not only triumphed in the world of men's magazines, but also in fashion, capturing the attention of prestigious brand Calvin Klein.
Despite being named the world's No. 1 international model by fashion site models.com and ranking 10th on the site's list of sexiest models, she still has insecurities, reports the Mail Online.
Speaking of the 16-year-old models emerging in the industry, Stone said, "You do get jealous sometimes!"
Married to British comedian David Walliams, she said her distinctive high cheekbones and gap-toothed smile have won their fair share of criticism.
"It hurts when you're having a tough day and someone says, 'She's so fu*cking ugly, I wouldn't let my dog near her,'" she told the magazine.
The sexy new cover shoot for GQ sees a nude Stone clutching a man's white shirt to protect her modesty. Other images see her in just a fur coat or white bed sheet.
It also seems that Stone may follow in the footsteps of other notable models such as Liz Hurley who have ventured into acting.
A source said to the Mail Online: "Lara's name has been touted in casting meetings for 'Austin Powers 4,' and there is talk that bosses would like to get her in for a screen test - especially after she's talked about comedy in interviews."
For more on Stone's interview and video of her cover shoot with the October 2011 issue of GQ magazine, click here.