In one of the highest profile cases in the Democratic Republic of Congo's (DRC) judicial history, six pro-democracy activists from the anti-government Lutte pour Le Changement (Lucha) movement have been handed six-month prison sentences by the Goma Court of Appeal.
The group members were jailed as part of a government crackdown on activists calling on the president, Joseph Kabila, to step down from power when his mandate expires at the end of this year. They were handed a two-year prison sentence on 24 February. Their jailing had been roundly criticised by the US, Belgium and France, as well as international human rights organisations.
The Lucha activists' appeal hearing was unexpectedly brought forward to 3 March, after the prosecution also appealed the original sentence, claiming the district court was wrong to dismiss the crime of "criminal association". The prosecution asked for a 10-year sentence, but a prosecution officer told the group they are "at risk of the death penalty" if convicted of inciting rebellion against state authorities.
Speaking after the sentence was handed down in Goma's Court of Appeal on 4 March, a Lucha activist said: "We have gone down from an initial two years - and the possibility of anything between 10 year and a death sentence to six-months prison."
The group welcomed the eventual and least severe outcome, adding: "The reduction of the sentence to six months and the rejection of the conspiracy charge does not make up for the shame of this injustice."
On 3 March, Lucha activist Justin Kikandi already blasted the proceedings, claiming the trial was a "pseudo-legal excuse for a political decision". "The sole purpose behind this is to give a pseudo-legal excuse for a political decision that consists in considering Lucha as a criminal organisation, and thus to enhance the repression against anyone who will claim to be [from Lucha]. [This] goal has already been expressed by the government, including by its spokesman during his last press briefing in Kinshasa on 29 February".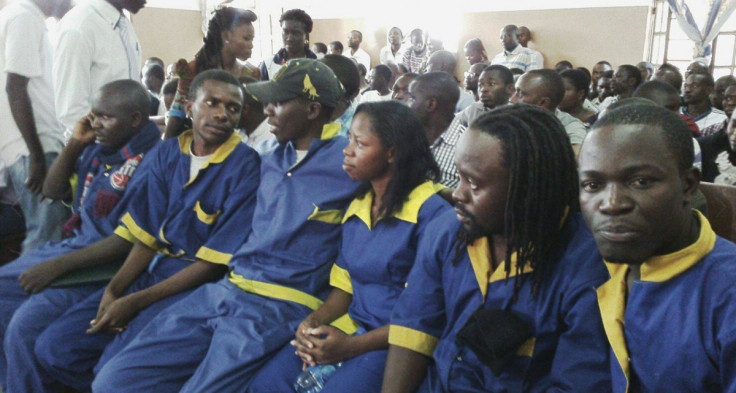 A high-profile case
The activists' arrest and subsequent sentencing have been widely criticised by many in the DRC, the international community and human rights organisations.
Their detention, for instance, drew strong condemnation from the UK's Foreign and Commonwealth Office (FCO), with a spokesman telling IBTimes UK: "We are concerned about the arrest of a number of human rights defenders and opposition activists and are monitoring the situation closely. We are also concerned about the recent condemnations of activists belonging to the 'Lucha' group arrested during the General Strike in February.
"It is the responsibility of the government of the Democratic Republic of Congo to ensure that political freedoms, freedom of media and speech and human rights are respected to ensure a peaceful and fair environment for the elections."
Lucha welcomed the added publicity for its cause and the apparent lack of democracy in a country that has "democratic" in its name. "The pressure has worked," an activist said.