For Denis Law, the Manchester derby on 30 April presents a battle of split loyalties. Success for City would mean a first league title since 1968, while should United triumph at the Etihad it would almost certainly mean a 20th championship for the red half of the city.
The battle for the Premier League crown reaches its climax next Monday when the league's top two sides meet in a match Sir Alex Ferguson has described as the biggest of his 26-year Old Trafford career. City trail United by just three points, and with a superior goal difference, with three games remaining.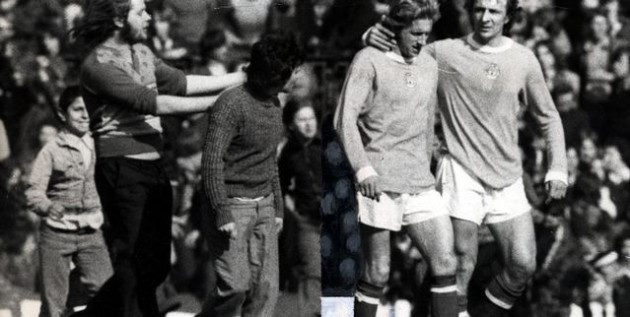 And Laws, who won two league titles at United in between two spells at City, insists he will be taking sides when the two sides meet, preferring instead to focus on the benefits of a healthy, competitive Premier League.
"I want both Manchester teams to do well. Football now is a global game and it's really good for the city of Manchester to be shown throughout the world: two fantastic stadiums, two very good football teams," Laws told the Evening Standard.
"We're back to the sixties when it was City and United. For the next few years, they will be the two teams that the rest of the country will have to beat if they want to win titles. Chelsea, Arsenal, Liverpool and Spurs, possibly, will have to be really good to beat the two Manchester teams."
It was Law's famous back-heel in 1974 that helped City to a memorable win at Old Trafford and consigned his old club to relegation into the old second division.
The 72-year-old has spent much of the intervening period trying to play down the significance of that match and, with the winner of Monday's clash likely to claim the league title; the former Scotland international might finally see that match eclipsed.
Enough has already been written about the corresponding fixture at Old Trafford earlier this season but Law revealed his surprise at the humble manner in which Roberto Mancini conducted himself in the aftermath of City's stunning victory.
"I met the guy [Roberto Mancini] a few times," added Law. "He's very good, very nice. I was really impressed with his interview after they won the game 6-1. It was some result. They don't get that very often. They could have won by more.
"He just behaved impeccably. He was just so calm, didn't go over the top. He just accepted that they had won the game. I've watched a lot of City and they have two or three players who really look good: David Silva, Sergio Aguero."