Veteran Australian rider Cadel Evans continued his excellent start in this year's Tour de France when he won the 172.5km fourth stage in Mur de Bretagne on Tuesday.
The 34-year-old, runner-up in the first two stages in Vendee, piped Alberto Contador to the line after the first serious climb of this edition. The Australian is now within one second of the yellow jersey.
The final sprint finish was so close that Contador punched the air in joy as he crossed the line, thinking he had won. If the race had been 10 metres longer, it is likely he would have done.
"I'm really very happy. I don't know how many times I finished second, third or fourth on the Tour. To win my first stage outside of time trials ahead of Alberto is a great morale boost for me and the team," Evans, twice the Tour runner-up in 2007 and 2008, told Reuters.
Evans' victory highlights the fact that rather than the predicted two-way battle between Contador and Andy Schleck this year's Tour could well have a number of contenders, of which Evans must now be considered a part of.
Britain's Bradley Wiggins finished six seconds behind the leaders and his 11th placed finish saw him move up to sixth overall.
"These stages are about staying safe and not giving away too much," Wiggins said. "I conceded a few seconds at the top, but gained on others."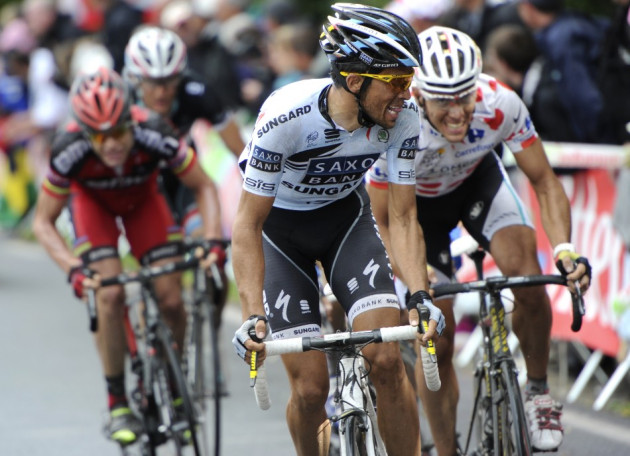 Live coverage
The 98th Tour de France started on Saturday 2 July, with 22 teams racing over 3,430km in 21 stages, culminating with a finish at the Champs-Élysées in Paris -- a full list of dates is available here.
Live online coverage of the Tour is available in the UK and Europe via Eurosport, with subscriptions starting from £3.99. Full race highlights are available every evening on ITV.
In the US, the tour will be shown live on Versus, with repeats and highlights being aired on NBC. The entire event is also available online. NBC is selling a Tour de France all access pass for $29.95, which provides HD video of every stage of the race all the way through to the final leg, when cyclists reach Paris on 24 July. Read more at NBC, via GigaOm.
For viewers in other countries, Steephill.tv has a comprehensive list of channels showing for the Tour in other regions.