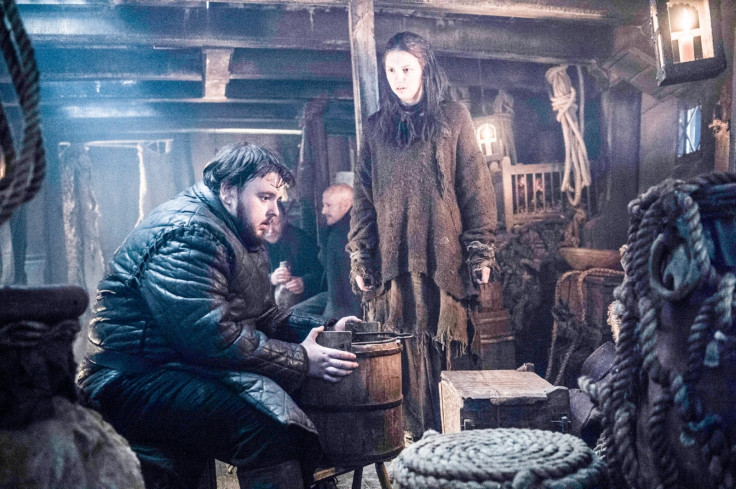 Latest leaked images from HBOs hit fantasy show, Game of Thrones, tease a reunion between Jon Snow and Samwell Tarly.
Filming for season 7 is currently underway and fans often share pictures of the set giving major hints of what to expect from the HBO fantasy series. The recent images shared by fan website Watchers on the Wall reveals Sam, his wife-Gilly and their son (who is not a baby anymore) bundled up in a horse chariot heading out of Oldtown.
The couple was last seen in GoT season 6 reaching the Citadel where Sam was amused to see the vast library containing thousands of books. Sam and Gilly also saw the release of the white ravens, which meant that winter had arrived in the realm.
The website speculates that the couple is heading towards North. As they appeared prepared for the cold, it looks a major reunion is on the card as Sam may meet Jon Snow, with whom he shared an emotional bonding during their days in the Night's Watch.
The filming for John Bradley (Samwell Tarly) and Hannah Murray's (Gilly) scenes has been wrapped up in Cáceres, Spain. Matt Shakman, the director of episodes four and five of the upcoming season was also spotted along with the actors, sparking rumours that the Sam and Gilly plot will be shown in the fifth and sixth episode of season 7.
Popular fans theory suggests that Sam will play an important role in the final two seasons of GoT as his thirst for knowledge may prompt him to find and read the ancient books to defeat the White Walkers and the Night's King.
As predicted in the finale episode of the previous season, the winter may last for years giving a clear pass for the deadly White Walkers. Hence, it will be interesting how Sam will help his old friend Jon, who is now the King of the North. Game of Thrones season 7 will return in Summer of 2017.