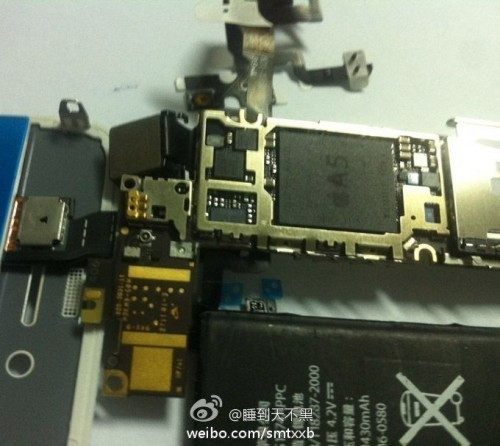 A new allegedly leaked image showing the inclusion of the iPad 2's A5 chip in a mysterious new iPhone device, has led to fresh speculation that the chip may be used to power Apple's next entry into its iPhone franchise.
The latest image in a slew of alleged "leaks" first appeared on Chinese microblogging site Weibo. It was subsequently reprinted and reported by phone site phoneArena.com. It allegedly shows a partially assembled new iPhone device, housing the A5 chip currently powering Apple's iPad 2.
Since the image appeared numerous tech sites have used the image as evidence that Apple may be planning to release a slightly amended version of its current iPhone 4 -- commonly referred to as the iPhone 4S -- as opposed to the the speculated next generation iPhone 5, citing "key" similarities between the design shown in the image and the current iPhone 4 as proof.
The newly "leaked" image follows a slew of conflicting reports by the world's media regarding Apple's next entry into its iPhone franchise. Despite the lack of official word from Apple, there are currently two prominent theories regarding the direction Apple will take for its next iPhone.
The first suggests that the company will attempt to break into the currently Android-dominated affordable smartphone market. The theory alleges that the company plans to release an updated budget version of its current iPhone 4 handset.
The second theory suggests that Apple is set to release a truly next-generation iPhone. Labelled the iPhone 5, the exact details of what changes and upgrades will be made to the device to improve it past Apple's current iPhone 4 vary Web site to Web site.
To date Apple has not confirmed the existence of either device.