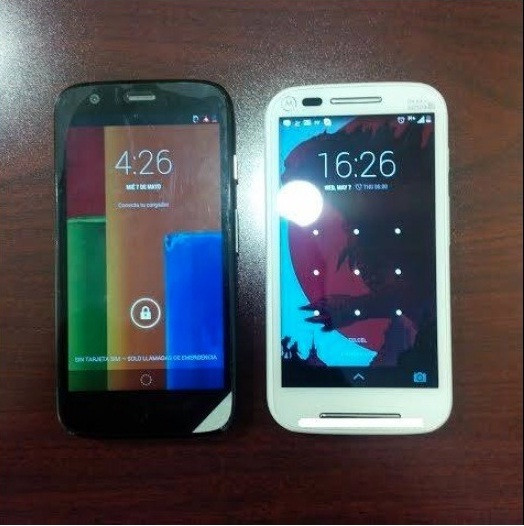 A purported photo of Motorola's upcoming budget-friendly smartphone, Moto E, has leaked ahead of its announcemnet.
Motorola has announced a press event for 13 May in London. The company is expected to announce the Moto E, which will replace the current Moto G.
Now a leaked photo has been shared by Android Police which claims that it came from an unnamed user who posted it on Motorola Mexico's Facebook page.
In the photo, the Moto E (right) is seen placed alongside the Moto G. The Moto E looks slightly smaller than the Moto G. There is Motorola branding on the front as in older Motorola devices. This is reportedly because the Moto E in the photo might be a pre-release testing unit.
The user has reportedly removed the photo, but there still is a screenshot of the Facebook post (below).
Interestingly, there is no front-facing camera in the Moto E, but a light sensor is seen next to the earpiece, similar to other Moto handsets.
Meanwhile, Indian online retailer Flipkart has started teasing the smartphone with a sketch of the Moto E on its site. The retailer notes the smartphone will be available only on its site.

According to rumours, the Moto E will sport a 4.3in 720p display. It will be powered by a 1.2GHz dual-core processor paired with 1GB RAM. It will reportedly have a 5 megapixel rear-camera and a 1,900mAh battery.
The 6.8mm thick smartphone incorporating Android 4.4 KitKat is expected to have 4G LTE connectivity.