The coach of Olympic gold-winning runner Sir Mo Farah gave athletes he was training prescription medicines and prohibited drugs to boost their performance, an official report claims.
The report from the US Anti-Doping Agency (Usada) accuses Alberto Salazar gave Farah and other athletes at the Nike Oregon Project in north-west America infusions of the chemical L-carnitine, among others.
L-carnitine is an amino acid. Athletes are banned from taking more than 50ml of it in the space of six hours. But the leaked documents seen by the Sunday Times show Salazar's athletes were using at least a litre per infusion – 20 times the legal limit.
The report claims Salazar discovered the "incredible" performance-enhancing substance after Steve Magness, one of the coaches at the Nike Oregon Project, had been experimenting with different dosages.
Magness tested the drug for himself and in an email to Salazar, highlighted in the leaked document, reported his findings.
Using L-carnitine provided "significant performance enhancement that is almost unbelievable with a supplement", he wrote, adding that improvements were similar to those recorded in athletes using prohibited "blood doping".
So excited was Salazar by the results, he emailed the world's most notorious drugs cheat to boast about the results.
"Lance, call me asap! We have tested it and it's amazing," Salazar said in an email. "You are the only athlete I'm going to tell the actual numbers to other than [US long-distance runner] Galen Rupp. It's too incredible. All completely legal and natural! You will finish the Iron Man in about 16 minutes less while taking this."
The findings present a damning picture of Salazar – the man who helped Farah become an Olympic gold winner.
Usada's findings are the result of a three-year investigation, which were revealed by the international hacking group Fancy Bears, which aims to expose doping and cheating in sport. The report's contents have been reported in the Sunday Times.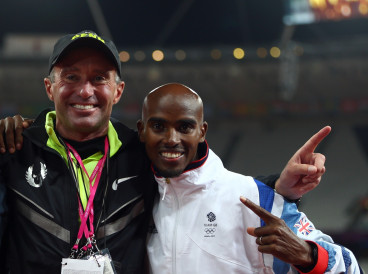 When allegations first surfaced about Farah's connections to Salazar, UK Athletics investigated them but said it was satisfied there is "no evidence of any impropriety" involving Farah.
Farah himself has also consistently denied allegations of doping and has stood by his coach, saying if "Alberto has crossed the line, then I will be the first person to leave him".
However, Usada's investigations into Farah himself are still ongoing, the leaked report states. The agency's investigation began in 2012.
The Usada report acknowledges that it has not addressed in detail, "Mo Farah's involvement in the NOP L-carnitine programme".
It does say that Salazar emailed instructions to Barry Fudge, a UK Athletics physiologist, to assist him in "preparing an L-carnitine infusion for Mo Farah to use prior to Farah's marathon debut, set to occur in the London marathon" on 13 April 2014. The volume taken is unknown.
Another note in the report adds: "Oregon Project athlete Mo Farah received an L-carnitine infusion from British physician Robin Chakraverty in April 2014." At the time Robin Chakraverty was chief medical officer at UK Athletics.
In response to the Sunday Times's request for comment, UK Athletics said: "To our knowledge, all doses administered and methods of administration have been fully in accordance with Wada-approved protocol and guidelines."
Farah declined to comment.