Internacional forward Leandro Damiao has hinted he would be prepared to join Chelsea so he can link up with Brazilian midfielder Oscar.
The 23 year old has scored 18 goals in 2012 for an Internacional side who finished eighth in Serie A, and thus missing out on a place in the Copa Libertadores.
And Damiao, who has previously been linked with a move to Liverpool and Tottenham Hotspur, says that he would like to link up once again with Brazilian and Chelsea midfielder Oscar, both of whom spend two-and-a-half years together at Internacional.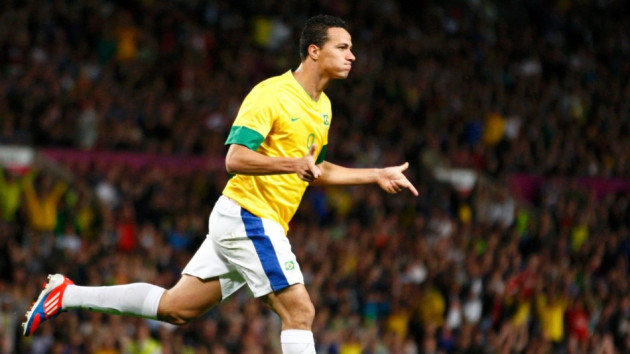 "Oscar is a fantastic player," Damiao said.
"I had an excellent relationship with him on the field at Internacional and it is true that I would like to be reunited with Oscar. We still play together when fielded for Brazil.
"But, I have a contract to honour at Internacional. Regardless of the fact that Internacional will not play the Copa Libertadores next year, I maintain my focus here at Internacional.
"It is not an incentive to leave. When a European club will come to the fore, we will see.
"I have a contract until 2015 with Internacional and for the moment, despite all the rumours, I am staying where I am and that is in Porte Alegre with Internacional," the forward added.
"The Premier League holds great attraction, of course. I was in England for quite some time during the Olympics and it is a great country with good people. But for the moment I am staying put."
Damiao netted six goals during the Olympic football competition, in which Brazil claimed the silver medal and his intention to link up again with Oscar, who has made a sterling start to life in English football, will raise hopes that Chelsea can complete a deal for the highly rated forward.
Despite Damiao's intention to play in next season's Copa Libertadores, Chelsea are likely to move for a striker in the January transfer window, and such is his form, the Champions League holders would surely be among those interested suitors.
Tottenham had a bid for Damiao rejected in the summer and eventually had to settle on Emmanuel Adebayor and Jermain Defoe as their first-team strike force for the new campaign.
Spurs have often been linked with the Brazil international's signature, while Liverpool are another club who have been rumoured with having an interest, with midfielder Lucas insisting the club should make a move for Damiao earlier this week.
"Neymar would be my first choice, but as I know it is almost impossible to bring him to Liverpool, I would choose Leandro Damião," the returning Lucas said.
"He knows how to play with his back to goal, and he would adapt well to the Premier League."