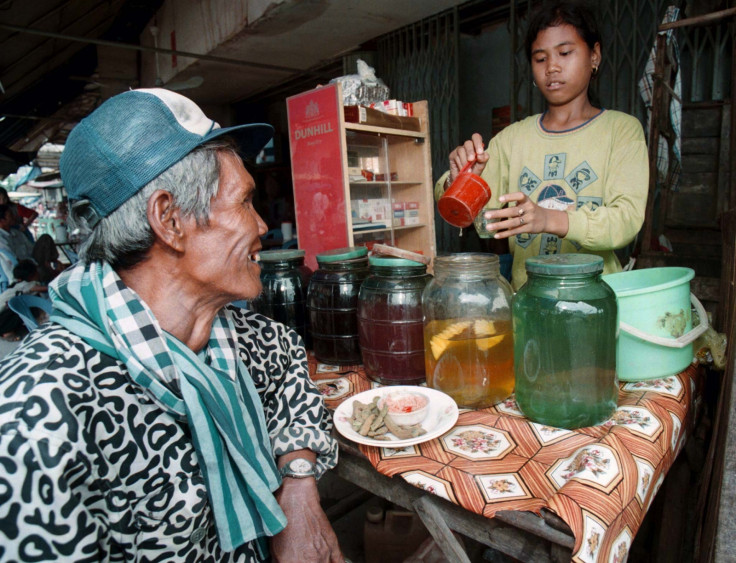 At least fifteen people have died and 78 hospitalised in Cambodia in the past five weeks after drinking homemade rice wine at funerals, officials said on Friday, 9 December.
The sale of rice wine was banned after villagers fell sick in Kompong Chhnang province, which lies about 90 km (55 miles) from the capital, Phnom Penh. According to Sorin Tiravuthy, the director of the provincial hospital, people continued to drink the same wine at a different funeral. Rice wine is traditionally brewed at home and is a staple at Cambodian festivals, weddings and funerals.
Tiravuthy added that he has lost the count of the number of people being hospitalised after consuming toxic rice wine. The first death was reported on 3 November.
"At health centers, people are continuously coming in. I don't know how many now," Tiravuthy told Reuters.
Mam Bunheng, the health minister of Cambodia, has said that the relatively inexpensive wine contained above-normal quantities of methanol.
Methanol is the simplest form of alcohol and is closely related to ethanol – commonly found in spirits. Bunheng has urged people to stop consuming the homemade drink because refining wine at home concentrates the level of methanol, which is highly toxic.
This is not the first time that Cambodia has seen deaths linked to bad batches of rice wine. In 2015, 19 people lost their lives and 200 were hospitalised in northeast Cambodia after consuming homemade wine with toxic levels of methanol.