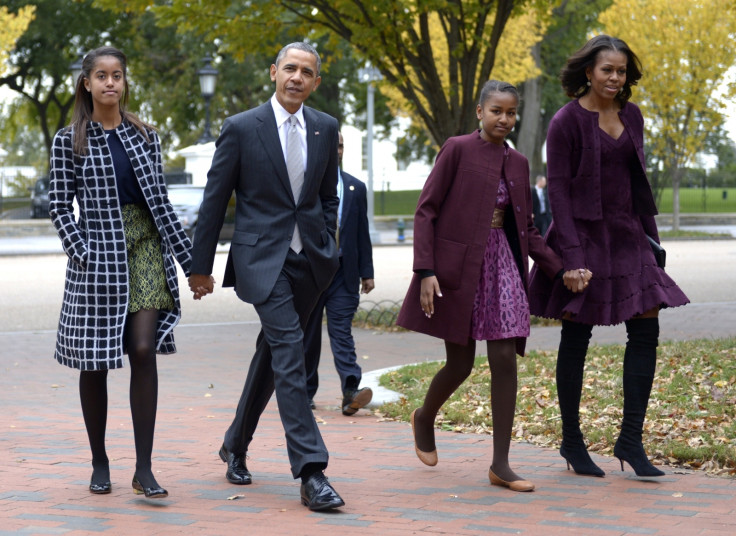 During her father's time in the White House, Malia Obama and her younger sister Sasha endured the best part of a decade of intense press scrutiny. Some attention, of course, was to be expected. But some of the commentary directed at the girls, and Malia in particular, was intrusive, malicious, and at times sexist and racist.
When Sasha and Malia attended the traditional annual turkey pardoning ceremony in November 2014, Elizabeth Lauten, then communications director for a Republican member of Congress, publicly lambasted their dress and behaviour. "Try showing a little class," she wrote, in a Facebook post addressed to the girls. "Rise to the occasion. Dress like you deserve respect, not a spot at the bar."
Making it very clear that she was directly using an attack on Sasha and Malia's appearance as a vehicle for a political dig at their parents, she added:
"Then again, your mother and father don't respect their positions very much, or the nation for that matter, so I'm guessing you're coming up a little short in the 'good role model' department."
Lauten subsequently apologised and resigned, but by that time the damage was done. Obama's daughters, still only in their early teens, had already had to endure a media storm of commentary, discussion and public appraisal of everything from their facial expressions to the length of their skirts.
Less than a year later, a family photograph on Easter Sunday led to similar online body-shaming and prudish criticism, sparking headlines like: "The Internet Wonders: Are the Obama Girls' Skirts Too Short?".
The attention never let up, and as girls, Malia and Sasha experienced a particularly gendered form of scrutiny. Countless articles charted their 'fashion transformation' and 'style evolution', with the sort of embarrassing photographs most of us would prefer never to see the light of day dredged up, comparing the earliest days of their father's presidency with their attire on later occasions.
Throughout it all, the girls were a model of class, never publicly responding or giving any sign of the strain and pressure such microscopic attention must have made them feel.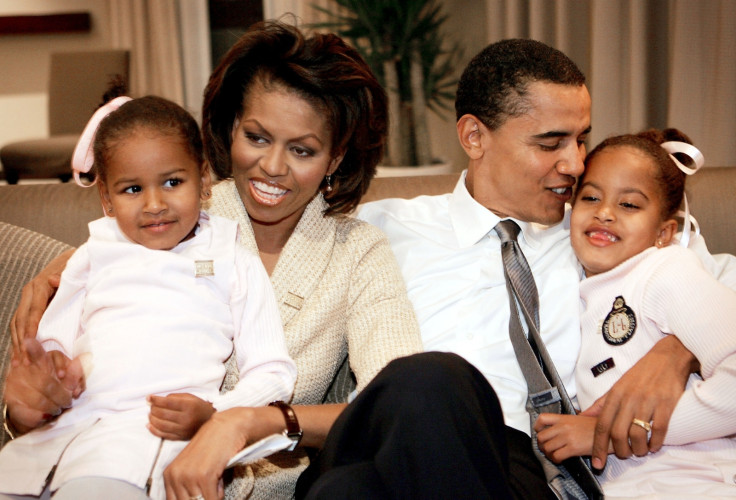 At every possible opportunity, commentary veered into criticism, and no off-duty moment was safe from the public gaze. When she had just turned 18, Malia attended the Lollapalooza festival with some friends, only to find that a moment's dancing was captured on video and plastered across the internet, sparking another storm of headlines.
"Malia Obama Caught on Video Twerking and Flashing the Crowd". "President Obama's daughter flashes her undies at a camera". "Malia Obama: White House Bad Girl Goes Twerking." Some even criticised Malia for failing to attend the Democratic national convention, which coincided with the festival and which, unlike her father, she had absolutely no responsibility to go to.
Malia should finally be allowed to study without her every move being dissected and judged.
When Sasha Obama was photographed kissing a boy at the same festival the following year, she was described as a "bad girl" and "party girl" and accused of lacking self-respect.
Both girls experienced a barrage of criticism far harsher than any directed at President Trump's older, white children, like his son Donald Junior, whose alleged involvement with Russian actors during his father's election campaign has been repeatedly downplayed and brushed aside with the infantilising excuse that he is really just a "good boy" and a "good kid".
When the news broke that Malia Obama had accepted a place to study at Harvard University then, it was no surprise that it was met with a barrage of racist, abusive insults. Commenters on the conservative Fox News website used the n-word to describe Malia, wished cancer and other diseases on her and suggested her university place was simply the result of affirmative action. It was the same kind of racist abuse first lady Michelle Obama had endured, when a non-profit director wrote a Facebook post describing her as an "ape in heels".
Now, as she finally leaves the glare of the White House spotlight and takes up her place at Harvard, Malia Obama should finally be allowed to study without her every move being dissected and judged. But already the media has pursued her there too. Just one day after she moved into her freshman dormitory, articles containing video and dozens of photographs were published online, scrutinising everything from her running shorts to her lunch. It is ironic that several of the headlines noted her obvious desire to keep a low profile. Reporters effectively blew any chance of that when they started interviewing the parents of her classmates.
When her father was President, there was some limited justification for media coverage of Malia Obama's life, though the actual scrutiny and abuse she endured extended far beyond what might be described as reasonable. But there is little argument that stalking her every move at university can possibly be excused as in the public interest, particularly now the White House has a new occupant. She deserves the chance to live her life in peace.
---
Laura Bates is the founder of the Everyday Sexism Project. Follow : @everydaysexism
---