The mother on Lee Rigby has renewed calls for a memorial to be erected in his honour on the one year anniversary of his murder.
Lyn Rigby has criticised councils and politicians who have rejected requests for a tribute to be placed in the area where he was killed in Woolwich last 22 May.
Nearly 4,000 people signed an online petition urging Greenwich council to construct a memorial to the murdered soldier "as near as is practicable to the site of his death and be visible to the public road".
The proposals were dismissed by local MP Nick Raynsford, who believes it could be the target of "undesirable interest from extremists".
The Fusilier was killed by British Muslim converts Michael Adebolajo and Michael Adebowale in broad daylight on the streets of Woolwich last year.
Marking the anniversary of his death, his mother has spoken of how she wanted her son to be honoured.
"I don't want him to be forgotten," she told ITV's Good Morning Britain
"I think a plaque or some fitting tribute for where Lee died."
The family of the Fusilier have previously written to the Royal Borough of Greenwich to say how a "beautiful and loving" memorial to Rigby would provide some comfort to the family "to know that he will never be forgotten".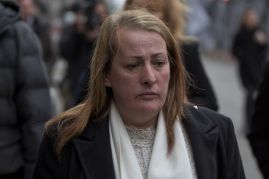 Explaining the decision to reject the campaign for a memorial, Raynsford said: ''The determination of the community in Woolwich to resist the attempts of some groups who sought to use Lee Rigby's murder as a pretext for stirring up conflict between people from different backgrounds was very impressive.
''They also made clear their wish for normal behaviour to resume as soon as possible, to avoid the shadow of the horrific murder on 22nd May 2013 hanging over the area indefinitely."
However, a bronze memorial will be created at a memorial garden in Rigby's hometown of Rochdale, Greater Manchester.
Rochdale Council confirmed a memorial will be placed alongside a "plaque for Lee and a memorial stone where other soldiers can be commemorated" at Middleton's garden of remembrance later this year.
Mrs Rigby added how she would "never forgive" her son's killers, but felt justice had been done after Adebolajo was told he will never be released from prison and Adebowale will spend a minimum of 45 years in jail for the murder.
"I know that they won't get out now," she said. "They cannot do this to another family."
Elsewhere, the home secretary Theresa May has paid tribute to Rigby. She said: "We shall never forget the appalling crime which was committed so publicly in Woolwich a year ago and our thoughts must go to Lee Rigby's loved ones on this very difficult day.
"The entire country united to condemn his death and the murderous ideology his killers espoused. They were swiftly brought to justice and we are committed to doing everything we can to challenge those whose beliefs and behaviour threaten our way of life."