The funeral of Lee Rigby has taken place in Greater Manchester, with thousands of people turning out to pay their respects to the "hero" soldier.
Members of the public applauded Fusilier Rigby's comrades, veterans and family as they arrived at the service at Bury Parish Church.
His two-year-old son, Jack, wearing a blue T-shirt with the words "My Daddy My Hero" on the back, was among the family members who attended the private service, which was broadcast by loudspeaker to the hundreds of mourners outside.
The soldier, a father of one who had completed a tour of duty in Afghanistan, was killed in broad daylight in Woolwich, south London in May.
A day before the funeral, a cortege carrying the body of the 25-year-old was driven through Bury before arriving at the church for a vigil. Forty soldiers kept a guard of honour overnight ahead of the funeral.
Rigby will be buried in a private cermony in his hometown of Middleton.
The hymns were Who Would True Valour See, Lord Of All Hopefulness and I Vow To Thee My Country. The choir sang Deep Peace Of The Running Wave.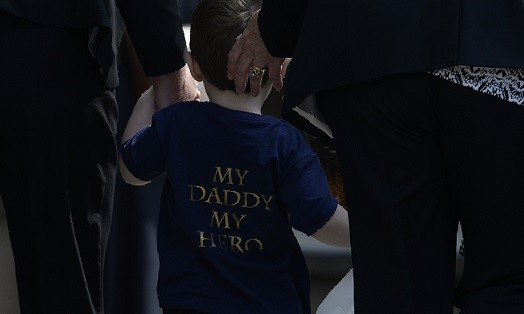 Prime Minister David Cameron and Mayor of London Boris Johnson were also in attendance at the funeral for the murdered drummer.
Lt Col Jim Taylor, commanding officer of the 2nd Battalion Royal Regiment of Fusiliers (2RRF), described Rigby as a "fantastic soldier" in his eulogy.
He added: "To be with Lee was to be where it was most fun - the centre of good times and much mischief.
"People fell quickly under his spell. Whether it was in work or off duty, at a ceremonial engagement or on operations, Lee just knew how to lighten the mood.
"He could brighten a room within moments and, by all accounts, clear a dancefloor in seconds if a Whitney Houston track was playing.
"He was always happy. His smile was infectious, as was his enthusiasm for soldiering and his passion for life."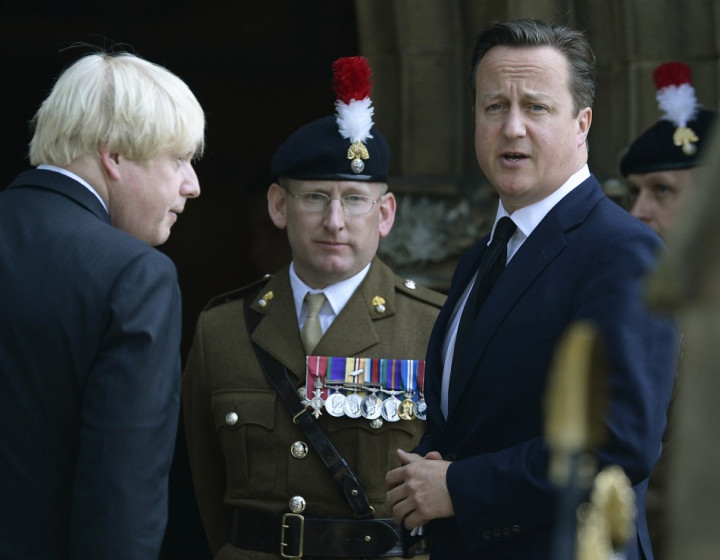 His family previously said they have been overwhelmed with the support they have received from the public since his death on 22 May.
His mother Lyn, 46, said: "We have received overwhelming support from the public, friends, family. We have had thousands of cards, with kind words. That basically has given us the strength to get through this time."
Stepfather Ian Rigby, 54, said: "Everywhere we have been, people have been supporting us.
"They have been absolutely incredible, coming up - not in your face but shaking hands and saying God bless, that sort of thing.
"At one stage for about three weeks we just had a garden full of flowers. We couldn't move in the garden. There were flowers everywhere."
Mr Rigby added: "It's just the continued support. Lee has become a hero. Whatever the intention [of the murderers] was it's backfired because it's made Lee into the hero."
Michael Adebolajo, 28, and Michael Adebowale, 22, have been charged with the murder of Rigby and are due to stand trial at the Old Bailey on 18 November.
Adebolajo is also accused of the attempted murder of two police officers and possession of a firearm with intent to cause others to believe that violence would be used.
They will both appear next in court for a plea and case management hearing on 27 September.