The two Muslim converts who were found guilty of murdering fusilier Lee Rigby on the streets of Woolwich have been given life sentences.
Michael Adebolajo, 29, and Michael Adebowale, 22, were found guilty of killing the soldier in broad daylight in southeast London by hitting him with a car and then hacking him to death on 22 May last year.
Abebolajo was told he would serve a whole life term and would never be released from prison. His co-accused Adebowale was handed life, with a minimum sentence of 45 years.
During the trial at the Old Bailey, Adebowale gave no evidence in his defence, but Adebolajo told the court he was acting as a "soldier of Allah".
Before their sentences were handed down, both Adebolajo and Adebowale were dragged from the dock after they started fighting with guards. They shouted "Allahu Akbar" (God is great). The fighting started after the judge described their killing as a betrayal of Islam.
The judge sentenced the pair in their absence after they were taken down to the cells. He said they had butchered Lee Rigby and went far beyond what was needed to murder him. He added their actions resulted in a bloodbath.
Their "sickening and pitiless conduct" was in sharp contrast to the bravery of women at the scene who tended Rigby while he lay bleeding on the road.
Following the severe sentences handed down to Adebolajo and Adebowale, Rigby's family said in a statement read outside the court: "We feel satisfied that justice has been served for Lee".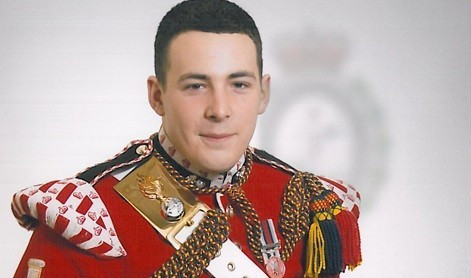 The sentencing was delayed until after a decision by a panel of judges on whether whole-life sentences were legal. They found that whole-life tariffs were justified "in the most heinous cases".
Rigby's murder was described by the Crown Prosecution Service as "one of the most savage offences ever". The defendants drove into the father of one at 40mph before dragging his lifeless body into the middle of the road in front of horrified onlookers.
Adebolajo, of Romford, Essex and Adebowale, from Greenwich, southeast London, then used knives and a meat cleaver to butcher Rigby "like a piece of meat". During the trial, the jury heard that the men chose to kill Rigby because he was "the first soldier they spotted".
Rigby was wearing a Help for Heroes top on the day he was killed and was walking towards the army barracks in Woolwich.
The pair then waited for several minutes at the scene for the police to arrive. They hoped they would be killed by police marksmen and would become Islamic martyrs. Adebolajo was filmed with bloodied hands and armed with a meat cleaver while explaining the murder was an "eye for an eye" act of revenge for Muslims who were killed abroad by British soldiers.
Adebolajo's barrister argued against a whole-life sentence as it was likely to made his client a martyr. He added that he believed Adebolajo was not so "depraved or wicked" that he was incapable of redemption.
Adebowale's defence team said it was "inhumane" to sentence a 22-year-old to spend the rest of his life in prison.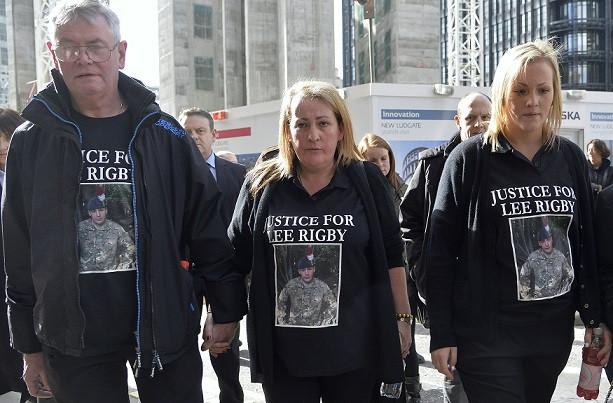 Appalling terrorist murder
There were tensions outside the court prior to sentencing as demonstrators erected replica gallows outside and called for the pair to be sentenced to death.
Sentencing was also delayed by 20 minutes after protesters were arrested for disorder outside the old Bailey.
Sue Hemming, head of special crime and counter terrorism at the Crown Prosecution Service, described the action of Adebolajo and Adebowale as "one of the most appalling terrorist murders" she has ever seen.
She added: "As a solider, Fusilier Lee Rigby was targeted in a clear act of revenge, deliberately carried out in full view of members of the public for maximum impact.
"Under the law, terrorism is committed by a defined act designed to influence a Government, the public or an NGO for the purpose of advancing a religious, political, ideological or racial cause.
"This attack was always going to fail in that purpose as it served only to bring people together in shock, sympathy and solidarity."
Metropolitan Police asst comms Cressida Dick said: "Today's sentence reflects the true horror of their actions in taking this young man's life in such a barbaric way.
"Our thoughts remain with Lee's loved ones, who have shown dignity and strength throughout the judicial process."