Police have launched an urgent appeal to help catch a rapist who has been described as "extremely dangerous."
A teenager was dragged from a bus stop into the front garden of a house in the Beeston area of Leeds at approximately 10.40pm on 6 March. The 18-year-old was bludgeoned over the head 20 times with a rock. She was then brutally raped and left for dead.
The entire attack was caught on the CCTV video of a neighbouring property. The chilling footage shows passers-by walking by the house, and a crowd of people getting off a bus nearby, oblivious to the horror unfolding just a few feet away.
After the attack, the man calmly walks away from the scene, leaving his traumatised victim on the ground. West Yorkshire police said she "lucky to be alive" after her terrifying ordeal.
The unidentified victim bravely recounted the attack on Crimewatch. She said: "It was getting dark. I went to the bus stop. I was waiting for a bus to go home."
She described how the man grabbed her from behind and pulled her into the garden. She was pushed to the ground with such force, that her hip was broken. "I couldn't scream. I couldn't move. All I could do was move my legs," she said.
She recalled how after the attack she staggered out of the garden, barely conscious, and was helped by two girls standing at the bus stop, who found her. "I thought it was a dream. I couldn't believe this was happening to me. I just thought I was in a dream and I would wake up."
The victim said she is now too scared to even sleep for fear of reliving the ordeal in her dreams.
"I haven't been able to stop thinking about what happened. I've stopped sleeping because I can see what happened when I am trying to sleep. Doesn't a woman have the right to wait for a bus without being attacked?" she asked.
Police said that as a result of the CCTV footage they "know what the suspect looks like" and have recovered the rock he used to bludgeon the girl with.
CCTV from earlier the same evening on 6 March, shows a man of the same description stalking three other women elsewhere in the city. Police said the women, who were closely followed by the suspect, had a lucky escape. The Crimewatch team filmed reconstructions in Leeds last week using actors to re-enact the harrowing events.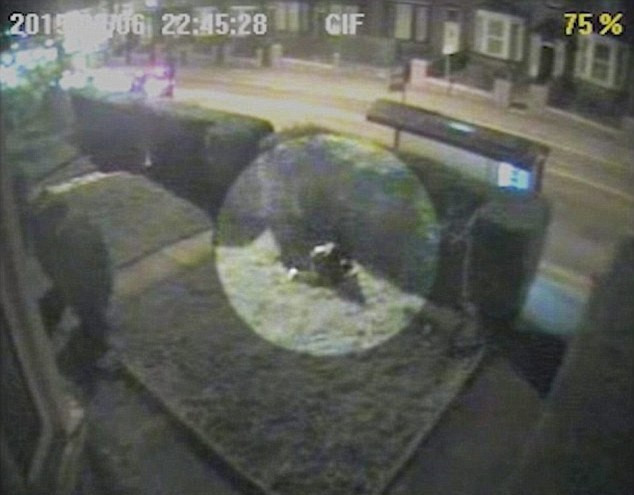 Describing the ferocity of the attack Det Supt Wallen said: "This was an appalling attack on a young woman where a shocking level of violence was used which could so easily have had fatal consequences. The entire attack was caught on CCTV. It is harrowing to watch.
"It has understandably had a very significant traumatic effect on the victim and that clearly comes across in the emotive comments she has made which feature in tonight's Crimewatch programme.
"We are very grateful to the local and national media for all the support they have given our ongoing appeals over the last seven weeks. Crimewatch is however a particularly prominent platform for the appeal and we are hoping that among its millions of viewers tonight could be someone who has that crucial information that could help us to identify this man."
The detective added: "We are hopeful that the woman shown being followed, who we have not yet identified, will come forward as a result of this new appeal. Although we are now seven weeks into this investigation, our resolve to catch this man remains as strong as it was on day one.
"We are continuing to conduct a very wide range of enquiries to identify him and would urge anyone who thinks they know who it might be to contact us immediately."
The suspect is described as being of Pakistani or Middle Eastern origin, in his early twenties and slim with a receding hairline. He could have had blood on his clothes and hands when he fled the scene.
A new e-fit of the attacker has been released, based on the victim's description.
Detective Wallen said: 'We believe this new image is the most realistic likeness we have yet had of the man we are still working very hard to identify. It has been created from the victim's description of him and from the recollection of one of the women he stalked in the period leading up to the attack. A new e-fit of the attacker has been released, based on the victim's description.
Members of the public who might know the suspect or have identified his clothing, have been urged to do the right thing and contact the police with any information they may have.
"I would ask people to study it very closely alongside the other elements of description that we have already released and think hard about whether they know who it is," said Det Wallen.
In a later update on Crimewatch it was reported that the programme had been "inundated with calls" on the Leeds rape.
"A number of names have been given to us. A number of names from police officers, ex-prison guards and mental health workers. A lot of good stuff coming in. Some really really strong leads coming in on that."
West Yorkshire Police are treating the crime as a rape and attempted murder. A reward of £5,000 has been offered for any information that leads to the rapist's arrest and conviction.
Anyone with any information is urged to immediately contact West Yorkshire Police. or Crimestoppers anonymously on 0800 555111.