Leeds United have confirmed the signing of Norwich City striker Steve Morison as part of a swap deal which sees Luciano Becchio going the other way for an undisclosed fee.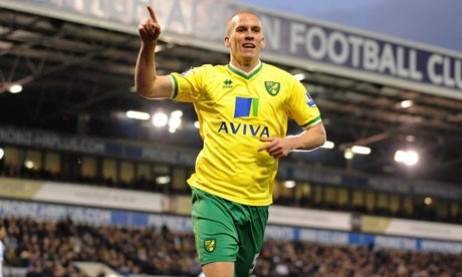 Follow live coverage of January transfer window deadline day here
Morison completed the formalities of the move Thursday morning where he signed a three-and-half-year deal with the Yorkshire club.
The Welsh international cost Norwich £2.8million when they signed him from Millwall in 2011 and has scored 12 goals for the Canaries, including 10 in the Premier League.
United manager Neil Warnock was elated with his new signing, telling the club's official website: "I'm absolutely delighted that we've been able to bring Steve in.
"Even before Luciano put in his transfer request we had enquired about Steve - he was at the top of my list in January to bring in - and I can't tell you how delighted I am.
"Steve meets all the requirements of the striker we've been looking to bring in. For me, he is a player who has everything. He can score goals from anywhere - whether it's 25 yards or a tap-in - he has pace, and he has all the attributes you want."
Morison has made 22 appearances this season and scored 40 goals in 95 apperances for Millwall before his switch to Carrow Road.
Becchio heads in the opposite direction, having spent four-and-a-half seasons with the club. Since joining in the summer of 2008, he has made 221 appearances, scoring 86 goals, ranking him among the top 10 league goalscorers in United's history.
Follow live coverage of January transfer window deadline day here