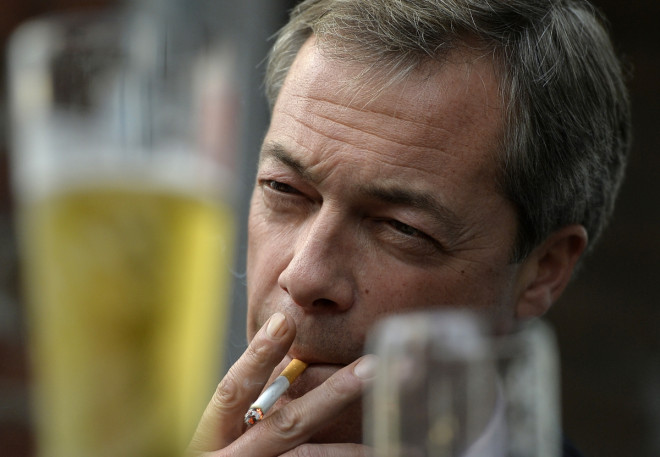 Ukip leader Nigel Farage has denied ever taking drugs as he called for laws banning narcotics to be abolished.
In colourful comments, he said Britain had lost the fight against drugs and pointed to Portugal as the way to go in decriminalising illegal substances to beat drug gangs.
Farage denied being "pro drugs" but claimed criminalisation "is actually not really helping".
The former City trader insisted he personally had never taken any illegal drug in his life. He admitted favouring the abolition of drugs laws put him at odds with the UK Independence Party.
Farage said: "I personally think that the war on drugs was lost many, many years ago and that the lives of millions of people in Britain are being made miserable by the huge criminal element that surrounds the illicit drugs trade and I do think that Portugal does show us that perhaps there is a better, more enlightened way to deal with this.
"I'm not pro-drugs by the way, as someone with teenage children, and I've seen fairly close to hand the damage that drugs can do to young people.
"So I hate drugs, I've never taken them myself, I hope I never do, but I just have a feeling that the criminalisation of all these drugs is actually not really helping British society," he told the Telegraph.
"I think we should look at it and if ever there was a subject where we needed a genuine Royal Commission – not to kick it in the long grass – but a genuine Royal Commission to examine Portugal, to examine perhaps what has happened in one or two states in America and in Switzerland, this subject would be it."
Legalising drugs is not an offical policy of Ukip. Farage admitted: "This is one subject where I differ strongly from my party."
His comments on illegal drugs come soon after Ukip wild card Godfrey Bloom branded him unfit to lead the party.
The controversial Ukip MEP claimed Farage was stifling talent. Bloom spoke out after being stripped of his post as Ukip's defence spokesman last year for branding a room of women "sluts".
Farage also personally blamed Bloom for "wrecking" the anti-EU party's summer conference with his antics, including whacking a TV journalist with a rolled up copy of a party propaganda leaflet.
Casting doubt on Farage's suitability for leading Ukip, Bloom said: "Nigel has been doing it for 20 years, and one might argue that's too long.
"He's done an extremely good job as a salesman. But let me say this – as a businessman, I would personally not make my best salesman the managing director or chairman of the board.
"In order for somebody to come to the surface of the party – and we have a lot of bright young people at Ukip – it's time [for Farage to go]."