Ahead of Legend being released in the UK next week (9 September 2015), cast members Tom Hardy, Emily Browning and Christopher Eccleston were joined by director Brian Helgeland at a press conference in London yesterday (3 September) to discuss the upcoming movie. The film offers up two for the price of one as Tom Hardy portrays both of the infamous East End gangsters, Reginald and Ronald Kray, on the big screen. The movie depicts their life of villainy and how they grew to be the most notorious criminals that emerged out of that era.
With such a wealth of history behind the twins, not to mention the technicalities of having the same actor on screen as both characters simultaneously, there was a lot that could be asked about the film. Here's the lowdown on everything that IBTimesUK found out during the event...
1. Hardy and Eccleston both loved true crime and were fascinated by the infamous gangsters as teenagers
Hardy: "I think as a kid, you see the books and the true crime section. I did, anyway. I had an interest in true crime when I was about 14 or 15, when I was going on holiday or whatever... grab a book... and that's when [the Krays] first crossed me atmospherics. They're about as familiar as a red telephone box, in many aspects."
Eccleston: "When I was a teenage boy like Tom, I think you become obsessed. There's a point where teenage boys get very interested in Gothic violence, and I also remember going to the true crime section a lot – and I would have been around the same age, about 14. And I have twin brothers, so I was particularly interested in them."
2. Whereas Emily Browning was not...
"I had honestly never heard of them until I read the script," Browning admitted, while Eccleston joked: "And she still hasn't!"
3. Actors don't always do their homework
Hardy: "There's always a question about research, isn't there? 'Have you done your homework?' No," he joked. "Which is true to some extent. Sometimes you need to just let it be.
Eccleston: "To quote David Bowie, 'I threw my homework on the fire and I took a car downtown!' I think there's a lot of bollocks spoken about research. It's make-believe. I felt what Brian had written, sent a very clear message to me about what he wanted. So I focused entirely on the script and what happened on set. We did discuss what kind of dog [my character, policeman Leonard] 'Nipper' Read would be. We decided on a bloodhound, because apparently they will chase something until they die! No homework."
4. Hardy "didn't have to think" about playing a gay character
"Do you know what? I didn't even think about it. It's just what it is. I don't think it needs playing – that's that. Ronnie was gay. Does that make sense? If I thought about, then that would give me pause to think and I'd have to do something, so I just had to get on with doing what I'm doing – which is my job," Hardy told the audience after he was asked how he got into the headspace of a homosexual character.
"I think if you start playing anything, then I think you start to miss the point of what it is you're there to do. I think what was complicated is that we don't know if Reggie was potentially... We don't know whether he was gay or not: that's questionable. So that's where I had to approach Legend as its own separate entity – and within this entity, Reggie's heterosexual, Ronnie's gay, crack on!"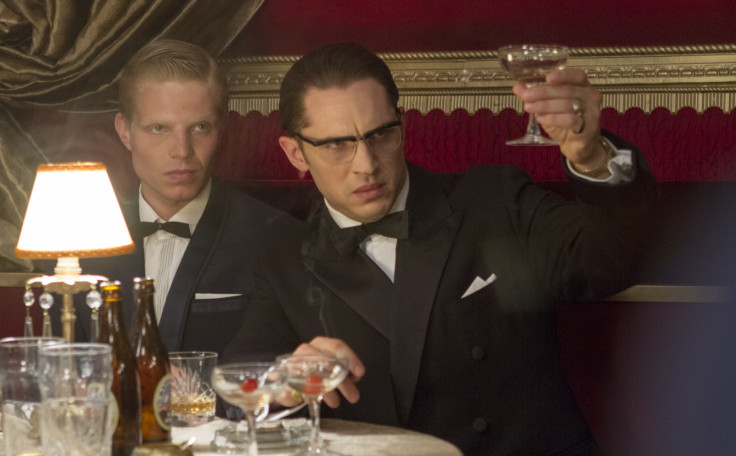 5. It took an hour and a half for Hardy to transform from Reggie to Ronnie
Hardy: "It took about an hour to an hour and a half. It had to be quick," Hardy remembered at the conference. "We had teeth, a wig, we had to plump up the nose, ageing stipple make-up. So there was about an hour's worth of make-up between Ronnie and Reggie, but we only had seven weeks to shoot. So couldn't faff about – we had to do it quite quickly. There were also wedges in the shoes because Ronnie had to be a bit taller, and an extra layer of shirts so his shirts were bigger, a double-breasted suit, waistcoat, glasses, so there was a different silhouette between the two guys. But it all had to come in an hour to an hour and a half."
6. Helgeland deliberately didn't focus on the Kray's relationship with their mother
"So much has been done about the mom and the boys that I wanted to stay away from it. You know, that's the thing that's really been done to death," Helgeland explained when a member of the audience wondered why Violet Kray had such a small role in the movie. "I never bought into the whole idea. Every gangster story I know, the characters are close with their moms, so I didn't particularly take it as something that was unique to them."
7. Eccleston based his character 'Nipper' Read on his grandfather
"I looked exactly like my paternal grandfather, and he was a frightening man," Eccleston confessed. "I was struck by that when they put me in the gear, and I based it on him – his effect on on me as a child and his basic outlook as I imagined it."
8. Hardy was more interested in playing Ronnie than Reggie
"Ron is predictably unpredictable – so for a performer, it's fun to play! You've got more of a smorgasbord of what you can use: you have multiple options and you can pull the rug on anybody you want at any given time, so it's a freer character," the Mad Max: Fury Road actor stated.
"Whether you wanted to naturalise him out or whether you were going for full-heightened reality or arch super-realism, or however you wanted to play it, you have more to free roam with. Reggie is more constrained – it's kind of boring to some extent, for me. I want to have fun!"