Everton full-back Leighton Baines has rubbished rumours concerning a potential move to Manchester United in the January transfer window.
The England international has played an important part in The Toffees' impressive start in the Premier League this season, with David Moyes' side sixth after 15 games.
Baines has continually been linked with a move to United to help boost the club's options at left-back, but the 27 year old is adamant his immediate future remains at Goodison Park despite Twitter rumours to the contrary.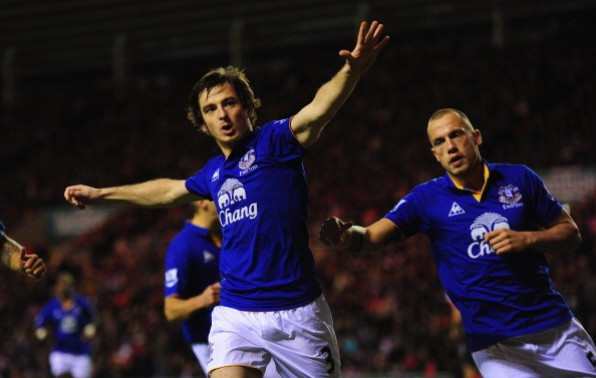 "I'm not that into Twitter but I would say not to be worried," Baines toldSky Sports News.
"There have been a few windows and a few rumours and there's nothing to worry about.
"There are a lot of lads here who have been at the club for a long time now and we want to bring it not just for ourselves and our own ambitions but for the other people at the club, the manager, the chairman, the fans.
"It would be a massive achievement for us if we could get those European nights back at Goodison," he added, with Everton in the mix for a Champions League spot going into the festive period.
"Although there's a lot of hard work and a lot of other clubs scrapping for that fourth spot, we'd like to think that if we can get our form back on track we could be one of them."
United were linked with a move for Baines on numerous occasions in the summer, but instead the 12-time Premier League champions signed Dutchman Alexander Buttner to compete with Patrice Evra for a staring birth at full-back.
In addition United's tendency not to invest in the January transfer window, plus trend of rarely signing players over the age of 26, thus having no resale value, means a move for Baines is unlikely.
Manager Moyes has constantly had to battle against the interest of the Premier League's bigger clubs for his prized assets, having to fight off interest from Marouane Fellaini and Phil Jagielka in the past.
The Belgian midfielder, who headed in the winner against United during the opening week of the season, has previously revealed his intention to leave the club to seek a new challenge.