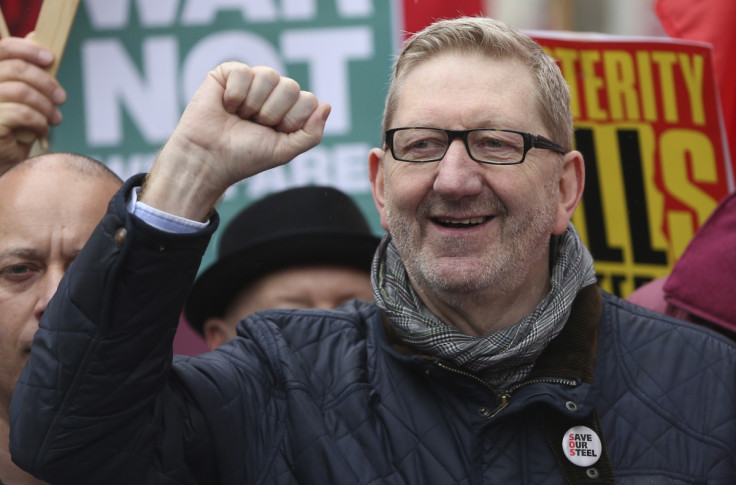 Unite Union general secretary Len McCluskey has launched a scathing attack against his main rival for the leadership of the 1.4 million-strong union, claiming that "failed plotters" in Labour's parliamentary party are behind West Midlands regional secretary Gerard Coyne's bid.
The comments come after the regional secretary accused McCluskey of being Jeremy Corbyn's "puppet master".
"These unscrupulous remarks show that Gerard Coyne's campaign is not being driven by concern for Unite and its members' interests," said McCluskey.
"It is being scripted by the failed plotters in the Parliamentary Labour Party, for whom Unite would be collateral damage in their political project to bring back Blairism."
Liverpool-born trade unionist McCluskey, who was first elected as head of Unite in 2011, also stressed that the union's executive council ruling body decided to back Corbyn for the 2015 leadership contest and the union's policy conference endorsed the left-winger in 2016.
The latest in the war of words between McCluskey and Coyne comes after the former triggered the forthcoming Unite election. Unite, the largest UK trade union and Labour's biggest donor, has a considerable influence in the British labour movement.
McCluskey is an ally of Corbyn and Shadow Chancellor John McDonnell and has the support of pro-Corbyn pressure group Momentum. However, he was forced on to the defensive on Monday (2 January 2017) after he appeared to suggest that Corbyn may resign as Labour leader if the party continued to lag behind the Conservatives in the opinion polls.
"Let's suppose we are not having a snap election. It buys into this question of what happens if we get to 2019 and opinion polls are still awful," he told The Mirror "The truth is everybody would examine that situation, including Jeremy Corbyn and John McDonnell."
McCluskey also attacked what he called "misleading media headlines", saying "Corbyn continues to have my full support, he's a genuine, decent man fighting for a fairer Britain. Media headlines distort facts."
But the union boss has raised concerns about free movement, warning that Labour could lose votes to Ukip if it did not "get its narrative right".
McCluskey, who unsuccessfully campaigned for Remain at the EU referendum, has also suggested that mass migration to the UK has lowered wages for workers in Britain. "Argument that wage rates are not affected does not stand up to scrutiny either," he told the CLASS think tank in November 2016.
Put simply, if all you have to sell is your capacity to work, then its value is going to be affected by an influx of people willing to work for less money and put up with a lower standard of living because it nevertheless improves their own lives. Supply and demand affects the sale of labour, too, pitting worker against worker."
McCluskey has called for a new approach that includes safeguards for communities, for workers, and for industries needing labour. "At the core of this must be the reassertion of collective bargaining and trade union strength," he said. Unite has proposed that any employer wishing to recruit labour abroad can only do so if they are either covered by a proper trade union agreement, or by sectoral collective bargaining.
"Put together with trade unions' own organising efforts this would change the race-to-the-bottom culture into a rate-for-the-job society. It would end the fatal attraction of ever cheaper workers for employers without the requirement for formal quotas or restrictions."
The ballot for the Unite general secretary election is to commence on 27 March, concluding on 28 April.