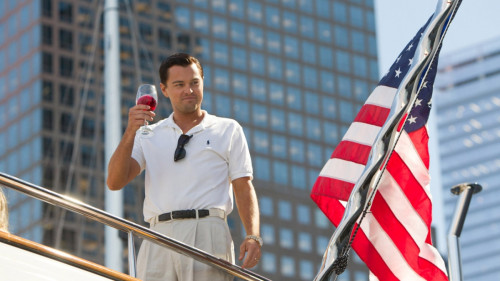 Just a little more than a week into its release, Leonardo DiCaprio starrer, The Wolf of Wall Street (based on Jordan Belfort's memoir of the same name) has courted controversy.
Apart from mixed reviews, the tale of a corrupt, drug-taking 90's stockbroker is facing heavy criticism by those have been at the receiving end of fraudulent financial schemes, dyed-in-wool Oscar voters and organisations espousing animal rights.
According to a Daily News report, Leonardo DiCaprio, who is also the producer of the film, has defended his new movie.
Critics have panned the film for glorifying the culture of Wall Street it portrayed, to which DiCaprio says: "The book was a cautionary tale," DiCaprio told Variety. "If you sit through the end of the film, you'll realise what we're saying about these people and this world."
"This film may be misunderstood by some; I hope people understand that we're not condoning this behavior, we're indicting it."
Christina McDowell, daughter of one of the men involved in the financial scheme the film is based on, publicly expressed her disappointment with its making.
According to her, Jordan Belfort, the real life financier that DiCaprio portrays in the film, testified against her father, Tom Prousalis.
In a letter she is reported to have said that the film is a "reckless attempt at continuing to pretend that these sorts of schemes are entertaining, even as the country is reeling from yet another round of Wall Street scandals", reports CNN.
Talking about the film's responsibility towards society, DiCaprio says that filmgoers should not see this film as an "endorsement of hedonistic criminality" that the movie depicts.
He fully backs the film as a commercially viable product and is all praise for his director and collaborator Martin Scorsese (this is his fifth film with the director).
"I think it's amazing somebody like Martin Scorsese is still making films that are vital and talked about, and have an element of controversy about them and are appealing to people of my generation. We grew up watching his films and he's still making stuff that's punk rock. It's an amazing achievement."
The film has been hailed as a contender for awards as the awards season gets under way; it has already bagged two Golden Globe nominations.