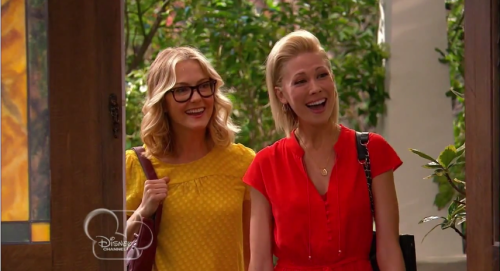 When the Disney Channel featured its first openly gay couple on sitcom Good Luck Charlie, most of its 2.5 million viewers didn't bat an eyelid.
Conservative Christians, however, batted their eyelids furiously, outraged by Disney's decision.
The couple, Susan and Cheryl, paid a visit to lead character Charlie Duncan's home and were met with open arms. The fact they were gay was only fleetingly observed by Charlie's dad, who said "Taylor has two mums!" upon their arrival.
"Wow, nothing gets past you, Bob," replied his wife.
Conservative group One Million Moms took offensive to Disney's decision, launching an email campaign soon after Disney announced their intention to air the episode last June.
The group wants Disney to "avoid controversial topics that children are far too young to comprehend" and said "Disney should stick to entertaining, not pushing an agenda."
That agenda being that two people being happily in love is normal.
Tony Perkins, of the Family Research Council, was also concerned that conservative values are becoming harder to find in the works of Disney.
Speaking on his radio show, he said: "One Million Moms is flooding the channel with complaints. Like us, they know what the research says: which is that kids who are deprived of a mom or dad grow up with significantly more emotional and academic problems.
"So it's a little ironic that the show's called, Good luck, Charlie. Without a dad, he'll need it."
The show is coming to end later this month after 97 episodes.
A Disney Channel spokesman told TV Guide that the controversial episode was "developed to be relevant to kids and families around the world and to reflect themes of diversity and inclusiveness."