Liam Gallagher and Idris Elba have had a very famous long-standing feud ever since the NME Awards in 2013, but the beef was well and truly squashed on national television when the pair were forced to co-exist on the Graham Norton Show.
The fall out all began when Elba ruffled Gallagher's hair four years ago, and the rocker retaliated by throwing the actor's hat across the bar.
But the warring duo have finally buried the hatchet, on the Irish host's BBC1 talk show of all places.
The 45-year-old Luther star will explain the spat to Norton and fellow guests Kate Winslet and Chris Rock on tonight's programme, stating: "Me and Liam have squared it away. We had a falling out. He threw my hat across the bar."
Gallagher adds: "We only fell out for 10 minutes," before Elba interjects with: "He threw my hat across the bar."
The singer responds: "You started it mate by feeling my hair."
Elba explains: "I gave him a hug and he didn't like that 'cos he loves his hair. He took my hat off and threw it across the bar so we had a bit of a thing. We're all good now."
On his best behaviour, Gallagher agrees: "Yep we are all good now."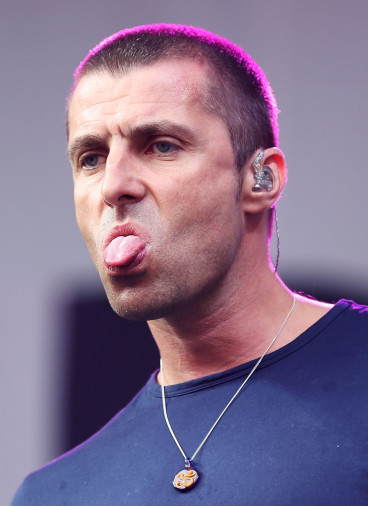 The dispute followed the awards ceremony which took place at London's Troxy, at the Warner's afterparty in the high-end Ivy Club.
At the time, it was reported that an onlooker said: "Liam was in full rock'n'roll swagger mode. He bowled up to the party after midnight and made his presence felt pretty quickly.
"He had a row with a Scottish actor called Martin Compston, mocking his accent. Then he had a few words with Idris, poking fun at his bobble hat among other things.
"Idris looked like he was going to flatten him — they were on completely different wavelengths.
"They were toe-to-toe at one point. Neither of them backed down. Idris was in a good mood, so left it, which was probably for the best. Liam left soon after."
Luckily, the pair are in a good place now so we shouldn't expect any punch ups on tonight's show...
The Graham Norton Show airs at 10.35pm on BBC1 tonight (6 October).